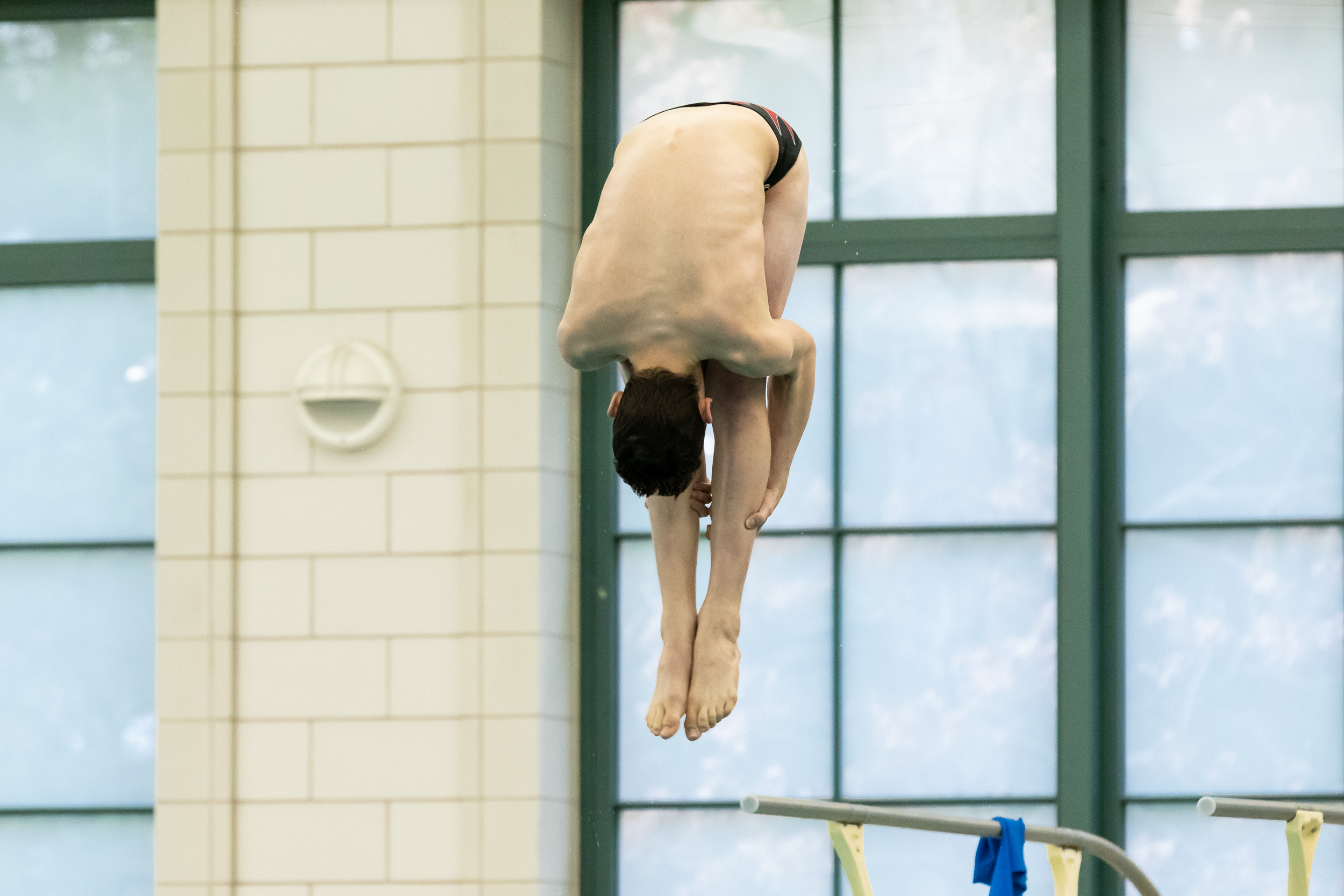 West Hartford's Kingswood Oxford Diver breaks records – We-Ha
Elias Brandt '23 caused a stir by not making a splash, winning championships and breaking not only the school record in knockouts, but also pool records elsewhere.
By Jackie Pisani
As he heads for the edge of the springboard, the eyes of Elias Brandt of Kingswood Oxford of West Hartford are fixed on an indeterminate point in front of him. The air is calm, thick and smelling of chlorine in the swimming pool. A silence descends on the edge of the pool, allowing Brandt to close his eyes and visualize the dive.
"I have to go through the only dive in my brain that is the right path. Sometimes I visualize myself going completely wrong. I usually keep in mind that I need to point my toes more or don't want to throw it very hard so I don't go overboard and make a big splash. Just before leaving, I take a deep breath. Sometimes if I have too much energy it messes things up and I'm not patient enough," he said.
In the recent encounter at Williston Northampton on January 28, Brandt, a 23-year-old class member, was patient and his dive was perfect, his body barely splashing as he entered the water. The crowd exploded. With his cumulative dives that day, he set a new knockout record and a new Williston School pool record for six dives totaling 298.36 points.
Brandt's diving accolades are falling on him, well, like water: He won the championship from the New England Preparatory School Athletic Council (NEPSAC), an organization that serves as the governing body for 169 preparatory schools and leagues in New England, seventh and eighth grade. , the youngest diver to accomplish this feat. In eighth grade, he broke the school knockout record three times; in eighth grade in 2020, he won first place in the Founders League, an athletic league made up of 11 Connecticut and New York college prep schools with a final score of 369.60, a new record of 11 dives for the boys' one meter dive. And if his dives at Williston are any indication, Brandt's performance at New England's next encounter will be just as impressive, if not more so.
Brandt started diving at the age of 5 after watching his sister during her diving lesson. After trying the sport once, he was hooked. At the time, he was also a gymnast, often leaving school at the end of the day to head for gymnastics training, followed by his diving engagement.
"The aerobatics of the two sports are complementary. It's a smooth transition into entering the sport of diving and having an air awareness – knowing where you are and having your eyes open to see where you are. When I was doing gymnastics and diving at the same time, it took a lot of time and effort, but I was building a base," he said. Brandt ended his gymnastics career at age 8 and went full steam ahead with diving, spending a week each summer at the University of Texas at Austin diving program where he met the Olympian. Greg Louganis who impressed the young diver and whom he considers an inspiration. .
A dedicated athlete, Brandt practices his craft almost daily, training at the Cornerstone Aquatics Center in West Hartford and at Trinity College. During COVID, when the pools were closed, divers trained on land with a trampoline and harness to mimic spinning in the air. By increasing his practice from three times a week to daily, Brandt feels he is able to achieve more successful dives.
Its most difficult and complicated dives are the double inward tuck in which the diver performs two tucked somersaults toward the board. The other dive he bravely tackles is a forward 1 ½ somersault with a full twist.
"It's one of the most rewarding dives I've done because when I first learned it took me a long time to do the right move and do everything at the right time. Now I've gotten to the point where this is one of the best dives I've ever done. It's really important to twist and throw a really hard aggressive somersault, but you also need to be aware of when you're twisting. Air awareness is really important in this dive," he said.
Always modest, Brandt does not consider any of his dives to be perfect. He acknowledges that he is close to performing the dive perfectly, but he still needs to work on performing his dives consistently. "For some dives where I'm more inconsistent, I have to consider where my weak points are in the dive: pointing my toes, getting out of the dive before hitting the water, or how I leave the board – because all of that affects the speed which you turn to to some degree," he said. "Now, because I'm diving a lot more often, I've been able to get that consistency and not be as scared on the dives that I do on a regular basis."
Brandt is unsure whether he will pursue college diving at the D1 or D3 level. In the meantime, spectators can marvel at his poise, concentration and solid, steady dives.
Do you like what you see here? Click here to subscribe to the We-Ha newsletter so you'll always be up to date with what's going on in West Hartford! VSClick the blue button below to become a supporter of We-Ha.com and our efforts to continue producing quality journalism.