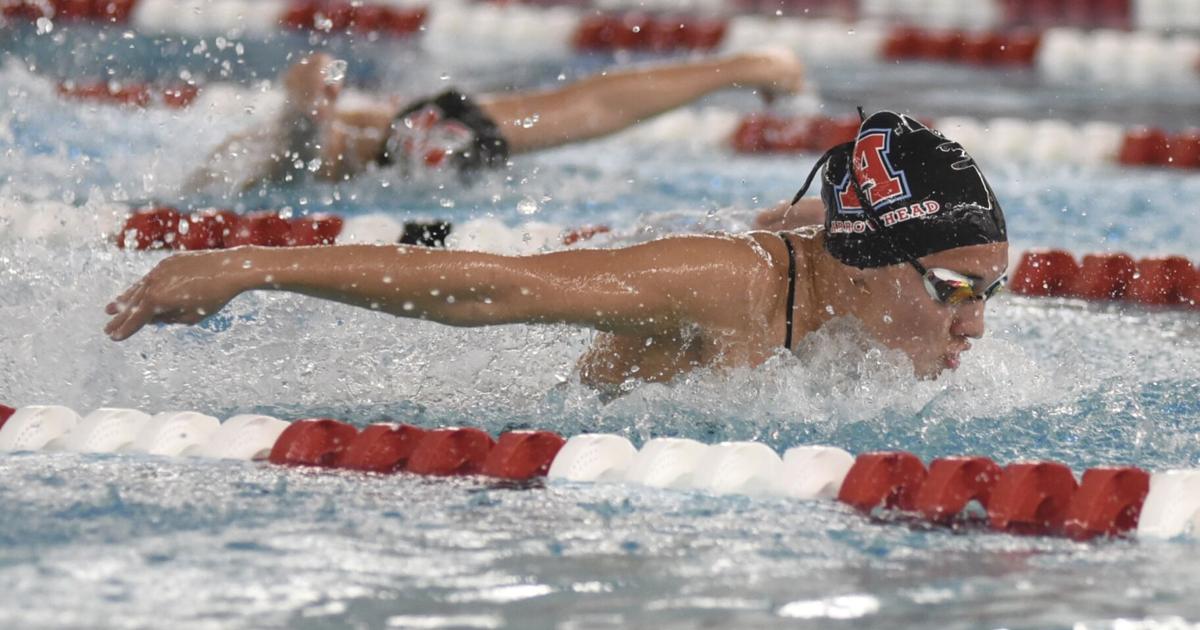 Unstoppable Warhawks | Waukesha County Sports
MUSKEGO – It was Arrowhead, then everyone at the Classic 8 swim and dive relays.
The Warhawks have placed first in 10 of 11 events, setting five conference records in the process. In fact, the only race they failed to win was the result of taking part in an exhibition relay as Arrowhead racked up 140 points to win their first meeting of 2022 on Thursday night at Muskego.
"A lot of these (records) are from many years ago when there were really good teams in the area, so I'm really proud of the overall performance of the joint venture and the university," said Arrowhead trainer Ruth Ann Ahnen.
More records are set to fall if Arrowhead's blistering start to the season is any indication. And after settling for second place for the past three years, the Warhawks bring back several pieces that were part of each of those finalist teams who want more after seeing Brookfield East celebrate gold in each of those instances.
That includes senior Campbell Stoll, a four-time state champion who was part of three wins Thursday. A University of Texas rookie, Stoll's first win came in the 400-yard individual medley relay with senior Peyton Drexler, junior Danielle Stemper and rookie Cate Wisener as the four combined to finish in 4 minutes, 1.90 seconds.
Drexler and senior Francesca Smith, both entered in Missouri, were also three-time winners. Smith kicked off the swimming portion of the competition with a bang, as Smith, senior Hailey Tierney, Stemper and rookie Julianna Drake finished first in the 200 freestyle relay (1:38.26).
Speaking of Tierney, she will be attending Wisconsin once her high school swimming career comes to an end. In other words, Arrowhead isn't exactly lacking in talent.
"Hailey is back, Fran, Peyton, and we have a really strong freshman class," Ahnen said. "We have Haley Johnson and Cate Weisner, Kate Lucyshyn and Julianna Drake. Some of those relays that set records, in our breaststroke relay Haley and Cate, were both very important in setting that record. Julianna was on the 200m freestyle relay and the 200m medley relay which set the record, so we had a mix of veterans and rookies.
"Last year we were missing a lot because they were all on a recruitment trip, but this year they're all here because they're all committed to the schools, so it's really good that 'they all swim.'
Not to mention the Arrowhead divers, who started things off with a first-place finish even after losing one to injury, as well as sophomore Tatum Brasfield, who won a medal at the State the last year but chose to focus on gymnastics. Arrowhead freshmen Payton Eicher and Emily Corteen, and senior Annie Fredericksen combined for a winning score of 344.35.
"(Dive Coach Mary Woodson) is doing a really, really good job," Ahnen said. "We have two new divers on the team that won the diving medley, so these girls fit in really well."
The Warhawks won the first three swim relays of the evening, with sophomore Audrey Worgull, Johnson, sophomore Nora Hansen and sophomore Allison Lucyshyn also taking first place in the 400m medley (4:03.33 ). After the Waukesha South/Mukwonago quartet of senior Ellie Wilber, rookie Kenzie Maciosek Arent, sophomore Keira Gardner and senior Audrey Banske won the 800 freestyle relay in 8:19.71, it was all Arrowhead the rest of the way.
Hansen, Worgull, second Frances Corry and Tierney won the 300 backstroke relay (2:51.19); junior Courtney Sarozek, Wisener, second Grace Kaczmarek and Johnson touched first in the 300 breaststroke relay (3:20.64); the Lucyshyn sisters teamed with Drexler and Smith to take first place in the 500 freestyle relay (4:41.68); Hansen, Tierney, Drake and Stoll won the 300 butterfly relay (2:45.88); Smith, Johnson, Drexler and Stemper swam the meet in the 400 freestyle relay (3:38.69); and the quartet of Worgull, Wisener, Stoll and Drake capped the competition with victory in the 200 medley relay (1:47.82).
Although host Muskego didn't win any events, his depth paid off in the form of a second-place finish as the Warriors racked up 94 points. They were runners-up in six races as well as in the diving competition.
"I'm thrilled," Muskego coach Heidi Szczupakiewicz said. "I was hoping to be third, so we finished second…my girls showed up to swim tonight. They were so excited. They were so pumped up and they swam really well.
"We had our divers Ella Cyrak, Stephanie Torres Sotelo and Corinne Wurster. They threw us into second place. Everyone got up and swam well.
Senior Kate Larsen was part of three second-place stints for Muskego. South/Mukwonago took third place with 84 points, Waukesha West/Catholic Memorial finished fourth with 64 and Waukesha North/Kettle Moraine rounded out the field with 44 points.
"It's a young team…a lot of energy but really a lot of talent and a lot of inexperience too," Szczupakiewicz said. "They were nervous and excited, and that helped."