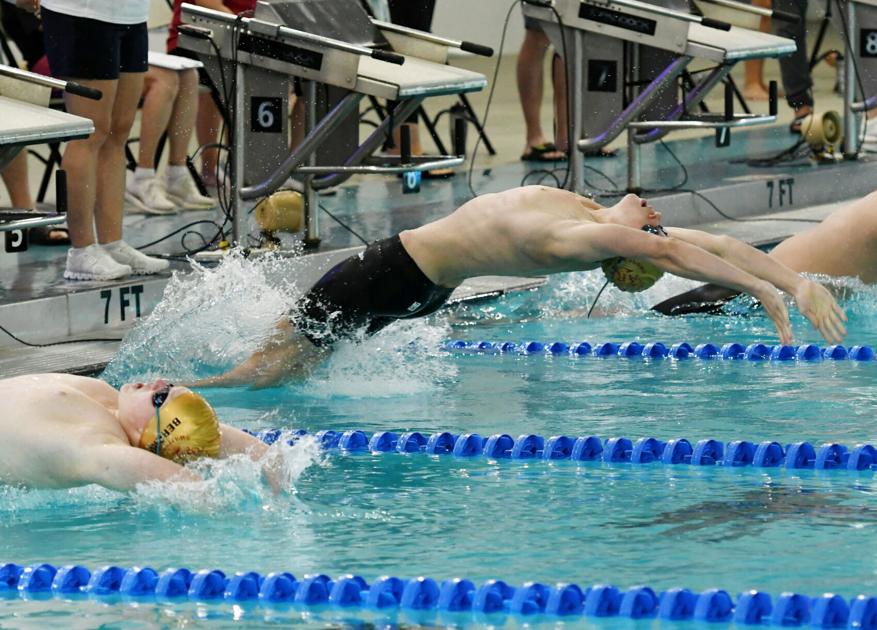 Swamp Foxes win two more regional swimming championships | Preparation sports
Ashley Ridge won the 8-AAAAA Region Swimming Championships on October 2 at the North Charleston Aquatic Center.
The Ashley Ridge Boys collected 352 points to fend off a spirited West Ashley team to win their fourth consecutive regional championship. West Ashley finished with 310 points and were led by Summerville (232.50 points), Fort Dorchester (129.50) and Stall (1).
The Ashley Ridge Girls quickly took a lead and finished at 359 points to win their fourth consecutive regional title. Lagging behind were West Ashley (253), Fort Dorchester (236) and Summerville (208).
"We're still very hopeful," said Ashley Ridge coach Victoria Merritt. "Winning, you win one, it's exciting and the second time around you feel like you have to prove something. Then it kind of gets OK, let's see how far we can go and how long we can continue like this our goal at the start of the season was for our boys and girls to win the area. West Ashley is still competitive so the fourth feels really good.
Ashley Ridge, Fort Dorchester, Summerville and West Ashley all had first-place swimmers in more than one event. Swimmers who win an event at the regional meet receive honors from across the region and these four teams all had swimmers who repeated their regional championship titles.
The top 12 in each event earned points for their team, so the team championships were not decided solely on the school's top swimmers.
"Logan Southern really wasted tons of time and achieved his personal best today in all of his events," said Merritt. "He placed among the best swimmers in the state after today. Some of our swimmers who might not qualify for the state competition also beat their best times today. They exceeded expectations and that made for an exciting meeting. "
Swimmers who reach the qualifying times advance to compete in the South Carolina AAAAA Class Swimming Championships on October 9 at the North Charleston Aquatic Center.
In addition to handing out team trophies, officials also honored the region's swimmers and coaches of the year at Saturday's meet. Madeline Routhier of Fort Dorchester was named swimmer of the year. Jack Jonas of Ashley Ridge was named swimmer of the year. AR's Larkey Shuler was named Girls 'Swimming Coach of the Year and Brad Blake of West Ashley was named Boys' Swimming Coach of the Year.
Winners of the 2021 Region 8-AAAAA Swimming Championships
Girls 200-yard relay: AR (Courtney Tedesco, Emma Christie, Bella Grossman, Kennedy Elwood)
Boys 200 Medley Relay: AR (Jack Jonas, Matthew Cannavaro, Josh Baroody, Lucas Millard)
Girls 200 free: Madelyn Routhier from FD (time of 1: 59.75)
Boys 200 freestyle: Carson Owens of WA (1: 47.67)
Girls 200 IM: Courtney Tedesco of AR (2: 18.81)
200 IM boys: Jack Jonas of AR (2: 03.64)
50 free girls: Cassidy Lima of Summerville (24.26)
50 free boys: Parker Azevedo de Summerville (21.35)
Girls 100 butterfly: Madelyn Routhier from FD (59.99)
100 Butterfly Boys: Carson Owens of WA (52.32)
100 free girls: Cassidy Lima (53.39) from Summerville
100 free boys: Danny Zlatev of FD (50.25)
500 Free Girls: Lyra Cooksey-Coale from WA (5: 30.76)
500 free boys: Logan Southern of AR (5: 04.93)
Girls 200 Free Relay: AR (Hayden Southern, Olivia Ackerman, Courtney Tedesco, Kennedy Elwood)
Boys 200 Free Relay: Summerville (Will Cumbie, Parker Azevedo, Luke Brusseau, Asher Jarrard)
100 girls backstroke: Courtney Tedesco of AR (1: 00.32)
100 boys backstroke: Jack Jonas of AR (55.70)
Girls 100 breaststroke: Emma Christie of AR (1: 14.01)
Boys 100 breaststroke: AR's Cohen Phillips (1: 01.42)
400 Girls Freestyle Relay: FD (Amaris Belt, Madelyn Routhier, Sydney Fennell, Norah Lightburn)
Boys 400 Free Relay: WA (Kayleb Eldridge, Gray Gladwell, Daniyal Eldridge, Carson Owens)