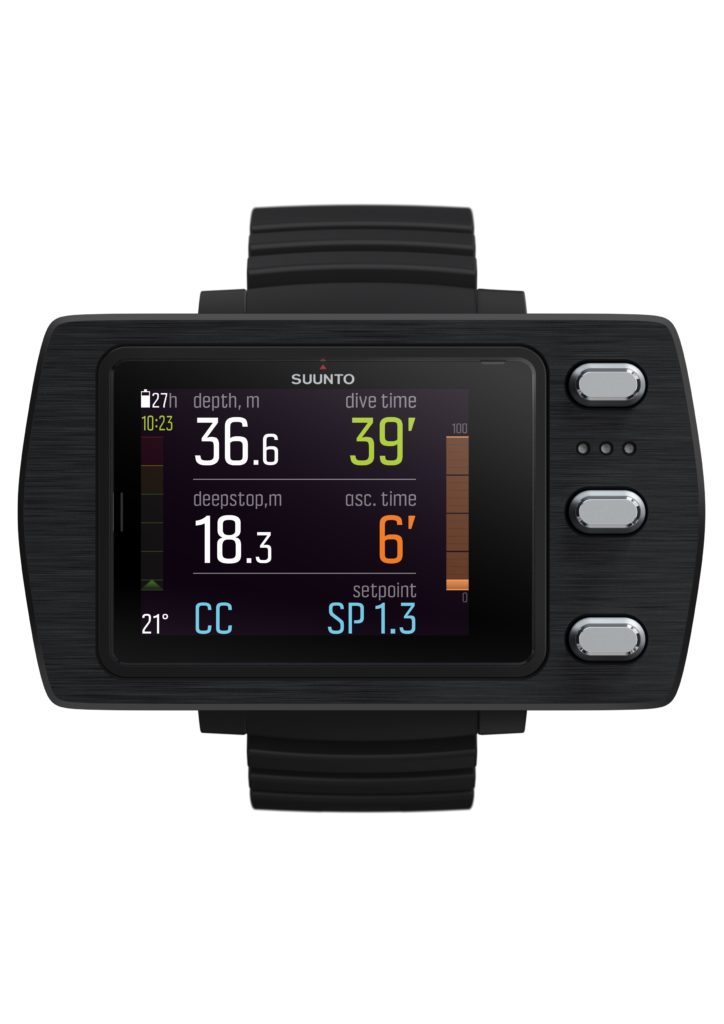 Suunto Eon Steel Black review
Suunto pulls out all the stops with the Eon Steel Black
Introduction
Suunto has gone all out to firmly establish the EON Steel Black as the go-to dive computer among the most advanced and technical diving fraternity. The device is CCR, Tri-Mix and Multigas compatible. Suunto even equipped the EON Steel black with two algorithms, their proprietary Fused 2 RGBM and the Buhlmann 16GF, in a clear attempt to dispel any lingering doubts about the conservatism of their computers.
I was intrigued to see how the two algorithms would compare and looked forward to testing the ease of use of the device. To put the Eon Steel black to the test, we made two dives on the impressive wreck of the Ex-HMAS Brisbane, which lies 30 meters deep.
General usage and features
As you'd expect from Suunto, the EON Steel Black is well-designed, aesthetically pleasing and durable. The first thing I noticed when I took it out of its box was the weight of the device; he felt reassuringly heavy and capable of taking a lot of punishment. It's also very sleek with a black brushed stainless steel front cover and large stainless steel buttons, conveniently aligned on the right side.
For a computer with a massive amount of features, it's remarkably easy to use. Without reading a manual, I could easily set the time and date. Nitrox and tank pairing was simple, as was disabling all those unwanted and often annoying alarms. It's a good idea to read the manual if you want to start playing around with algorithms and gas mixtures, but overall I found the menus to be intuitive and easy to navigate.
What also helps is the large color screen that this computer has. With its anti-reflective coating, I found the EON Steel Black as readable in full reflection as in the bowels of the wreck. The screen also means the compass function is very usable.
Other features include a USB rechargeable battery that offers a massive 40 hour charge. The device will also retain this charge for long periods of inactivity as it enters deep hibernation when not in use. It is rated at 150 meters and for some reason can be paired with 20 tank pods simultaneously; I don't know under what circumstances you would need this particular feature, but none the less!
Connectivity
Like almost all electronic devices these days, the Suunto has an app, Bluetooth connectivity and GPS. It's simple to set up, and I could upload my dive details, view them as a standard log or graphical format, add images, and share them easily and quickly on social media. For increased features and functionality and to facilitate further planning, there is the Suunto DM5 program for Mac and PC.
This program will be of particular interest to tec diviners who like to carefully plan each dive. The DM5 program also allows customization of view and display options. There are three different display layouts to choose from, with additional customization in each possible layout.
Algorithms
As I mentioned earlier, the EON Steel black has two algorithms, but luckily it's not as complicated to navigate as it looks. You have the choice before starting the dive which one you prefer to use.
The Fused 2 RGBM – This new algorithm was developed by Suunto with the most advanced divers in mind, offering greater flexibility to adjust personal settings. This algorithm offers a simple way to adjust how aggressive or cautious you want to be while diving with five options present.
Buhlmann 16 GF – With adjustable gradient factors, this algorithm gives the diver more control over how cautious or aggressive they wish to be during a dive.
So to sum up, what can become a very complex discussion of algorithms, the RGBM has some failsafe while the Buhlmann pretty much leaves it to the diver. The Suunto Fused 2 is less complicated and can be used aggressively if needed. In contrast, the Buhlmann with its gradient factors allows for great flexibility but requires a greater understanding of decompression and technical diving to be used safely.
On my test dives, we ran both algorithms side-by-side, and I was surprised there was very little difference between the two. Admittedly, I was only at a maximum depth of 30 meters for my two dives and I was not planning any decompression dives. Still, with previous Suunto computers like my old Vyper, my second dive would have been incredibly restrictive at this depth.
suunto has now also removed the lockout feature for both algorithms, meaning you won't be locked out of the computer during a dive if you've violated a deep or safety stop. Instead, the device will continuously recalculate the decompression stop if several are missed during an assent, something tec divers are eager to see fixed.
Conclusion
Nice styling and ease of use have never been an issue with Suunto products, the real test of the EON Steel Black was to see how well it performed as a Tec computer. Suunto has long had a reputation for being overly conservative, punishing a diver for not following computer instructions and even locking out while still diving! An unforgivable sin in the eyes of some divers.
These drawbacks have now been rectified and Suunto have created an incredibly versatile dive computer that is ideal for recreational divers as it is as easy to use as you want it to be. It also ticks all the boxes for the hardcore tec diver with the option of two algorithms. Could this be the dawn of a new era for Suunto Dive computers?