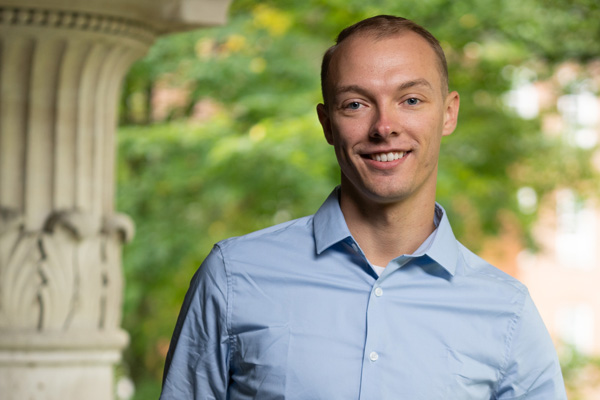 Success Advisor Adam Brown Says, 'Don't Go Home'
Adam Brown, Success Advisor in the Office of Undergraduate Counseling and Student Affairs at the College of Arts and Sciences.
Adam Brown, Success Advisor at the College of Arts and Sciences, has some advice for the Class of 2026: "Don't go home. Stay on campus for at least the first six weeks before you go home."
It sounds simple. But Brown says the biggest challenge students face when they arrive at college is the new environment and the changes that come with it.
"For some it's the first time they've shared a room, or the first time they've been away from family. This big adjustment can be difficult at first, but finding a group of friends, clubs or activities can be beneficial in providing you with routines," Brown said.
Staying on campus "gives you time to explore different happenings, meet new friends, catch campus life, nightlife, and other happenings in the community" , he said, noting that students should "get out there and explore — there's something for all types of people and personalities."
'Take the leap'
Definitely bring comfortable shoes to navigate the hills and brick sidewalks of Ohio University. But also bring a sense of adventure, Brown said.
"Take the leap. Be in a new club, social group, minor or whatever sounds like you," Brown said. "Ohio University gives you endless opportunities to choose from!"
"The best part of OHIO," he said, is that a student has many support systems that encourage and help them discover these opportunities. "Access the Welcome Weekend, Majors Fair, Homecoming events and all the activities that allow you to meet new people, discover new hobbies and learn about Ohio University. These events are there to help you connect with others with similar interests to you."
Brown was a graduate student at OHIO, earning an M.Ed. on the student staff in 2020. But if he could turn back time and be a freshman at OHIO…
"If I started again as a freshman, I would get involved," Brown pointed out. "Whether it's a small organization, a club, being part of an office as a student assistant or volunteering. By getting involved as a student, you get the most from your OHIO experience. Once you get involved, it can lead to new and exciting adventures, involvement, or even a new experience. Getting involved helps create lasting relationships and bonds that will last a lifetime. "
Every Bobcat has favorite memories of Athens, including Brown: "Night walks around campus. To relieve stress or just connect with my friends, we would meet on College Green and then start walking with no real destination. We've always stopped by Whit's because it's a must! However, just being able to walk around and observe the campus and nightlife was both soothing and relaxing."
Learn more about the Office of Undergraduate Counseling and Student Affairs at the College of Arts and Sciences.