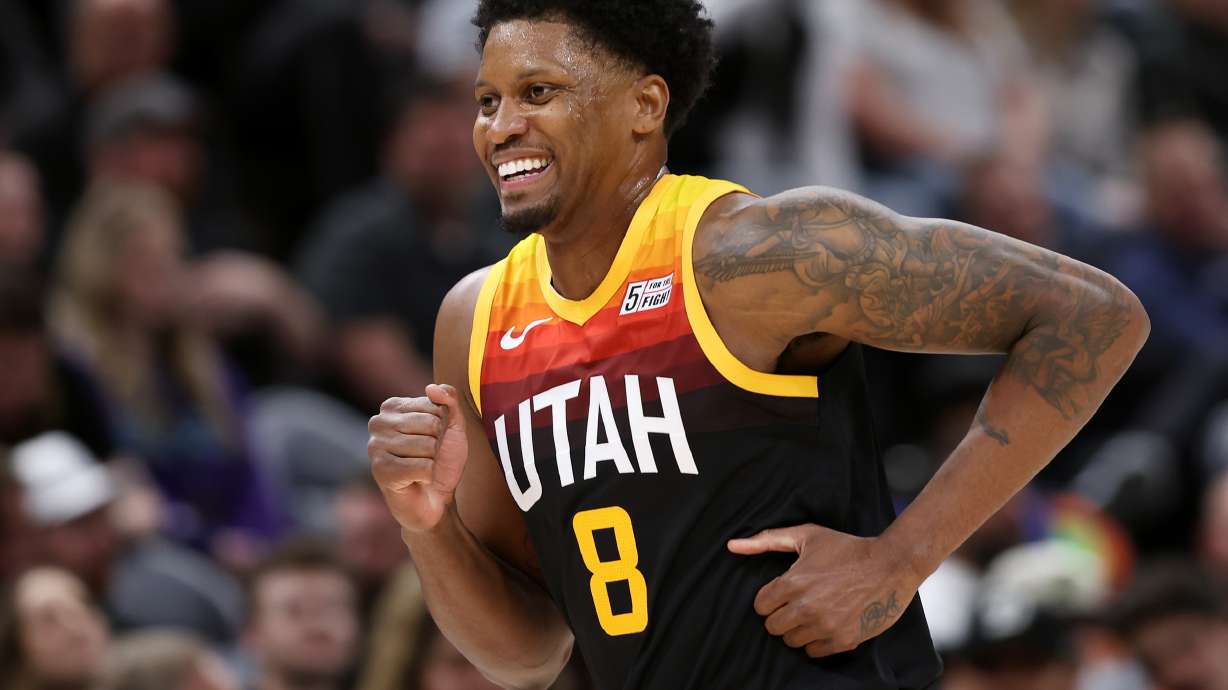 Rudy Gay's dive to the floor highlights Thunder's jazz rout
Estimated reading time: 3-4 minutes
SALT LAKE CITY – Rudy Gay was already flying to the ground when the thought, "What are you doing?" entered his mind.
In the fourth quarter of a game where the Jazz held a 29-point lead, Gay dove to the ground after a loose ball. Necessary? Barely. Memorable? Certainly.
"At that time, I didn't care about the score," Gay said of the game. "It's been a while since I played in the game. It's been a while since I managed to have a rhythm and that I didn't feel like I was part of the game. I was immediately like, 'What the hell are you doing??' as soon as I jumped. I'll let you know how I feel tomorrow."
Wednesday night's result was expected. The Jazz beat the Thunder 137-101 in a game Oklahoma City wanted to lose, and Utah played enough of their guys to claim the win. But for Gay, the game was far from a formality; it allowed him to find his rhythm and, perhaps most importantly, to play.
Last week, Gay received another blow in an already difficult season. In a meeting with jazz coach Quin Snyder, he was told he would be used on a situational basis. Juancho Hernangomez had played himself in the rotation, which meant Gay wouldn't always play. For a player who came to Utah hoping to be a key contributor to a championship contender, that wasn't the best news.
"He told me how he felt at the time," Gay said of the conversation. "It was there. It's the coach. I'm just here to help where I can; I'll do whatever I can to be a part of things and compete. That's what it is."
To his credit, Gay has retained his role as a coaching mentor. On Monday, he took part in a spirited one-on-one session with Jared Butler, Eric Paschall, Hassan Whiteside, Nikeil Alexander-Walker and Zavier Sneed. Subsequently, he declined a media request; he knew the questions that were coming.
On Tuesday, however, he played 13 minutes in Utah's win over the Memphis Grizzlies and then played 26 minutes against the Thunder. He scored 12 points on 5-for-7 shooting, grabbed eight rebounds and had a memorable dive to the floor. All of this marked Snyder.
"I'm proud. To be a vet like that — we've discussed he'll be situational, those situations are there — for him to step in and be ready and play with emotion and energy," Snyder said. "He dives on the ground for loose balls; it's good to see. He came here because he wants to win and that's what he showed."
Gay said after a season filled with lingering pain following off-season heel surgery, he felt he was back to a point where he could contribute and play the way he had. accustomed during his long career in the NBA.
So no matter the opponent or the score, he wasn't going to let a stray ball pass, even if he might regret it the next morning.
"When I realized I couldn't bend down to grab it, I probably shouldn't have," Gay said with a laugh.
×
Related links
More stories that might interest you