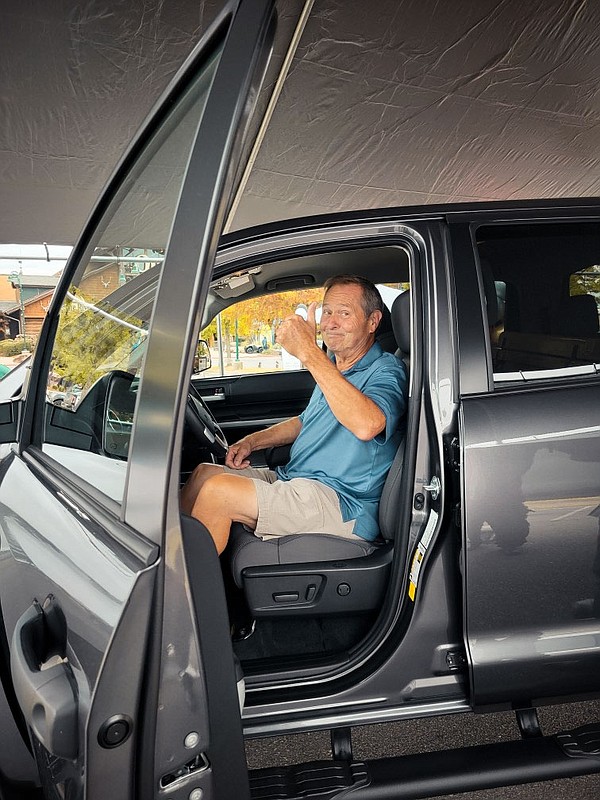 Petty wins new Tundra pickup
Last month, Hot Springs' Mark Petty was named the grand winner of the Adventure Awaits Sweepstakes competition, a national competition run by Bass Pro Shops and Cabela's CLUB.
Petty won $ 750 in camping gear at Bass Pro Shops and a new 2021 Toyota Tundra, which was awarded at a celebration at Bass Pro Shops in Little Rock.
LADY COBRAS SWEEPING MAGNOLIA
Fountain Lake picked up two wins over Magnolia on Tuesday at the Irvin J. Bass Gym.
The junior varsity team won 25-22, 25-23, led by Lilli Redifer with 18 digs and nine serve points.
The varsity team (18-8, 10-1) also swept the Lady Panthers, 25-12, 25-22, 25-10. Jocelyn Brown led the team with 16 serve points, including three aces. Sophie Skinner added 14 serve points as well as 11 digs, 24 assists and five kills. Redifer also managed seven wins.
LAKESIDE VOLLEYBALL WINS WINS
The Lakeside Rams junior volleyball teams scored victories over Little Rock Central on Thursday, with the eighth and freshman teams scoring victories.
The eighth-year team (17-8-1, 6-1) concluded their season with a straight set victory over the home side. After winning the first set 25-17, the Rams' eight ranks fell 25-13 in the second before taking the 15-10 victory and the game.
Adelyn Sanders led the team with seven service points and Jaylen Brakebill added six.
"A lot of the team showed extreme hitting power and powerful serves to help the Rams win," said head coach April Lawson.
Rookie Rams (27-6, 9-0) swept the home team, 27-25, 25-15.
Lola Rucksthul led the team with three kills, five blocks, four aces and four digs, Alexis Kessler added three kills, six digs and a pair of aces, and Claire Vance had two kills, three blocks, two digs and an ace. Laynee Throgmartin had eight digs, 13 assists, two assists and two aces, Maddie Kinder had 17 digs and two assists, and Alyssa Nugent had 15 digs and two assists. Reagan Stone finished with eight digs, and Penny Fuller-Freeman and Ella Witherington had a pair of wins each.
The team will host Hot Springs on Tuesday for their final regular season game.
• Lakeside also won all three matches against Texarkana on Tuesday.
Eighth-year team B (5-2) won 25-18, 25-16, led by Adelyn Sanders with eight serves and Katie Nave with six.
The eighth-grade team won 25-17, 25-11. Sophie Botter led the team with 13 serve points and six aces, and Madeline Slaton had seven serve points with three aces.
The Rams' freshman won 25-16, 25-11. Vance led the team with five kills, two blocks, two digs and three aces while Nugent had four kills and two digs. Kinder had 22 digs, Addi Blair Bobo had 13 and Lexi Hammons seven.
HSU, HARDING SWEEP FOOTBALL AWARDS
RUSSELLVILLE – Henderson State's Adam Morse and Dedric O'Bryant won the Great American Conference's weekly offensive and defensive awards while Harding's Kendale Allen took home the special teams award.
Morse, the Reddies quarterback, had 20 for 30 passes for 357 yards, and he tied the league record for touchdowns in one game as he pitched for six and ran for one in one. 59-24 victory over East Central. He is fourth in the NCAA Division II with 20 touchdown passes.
O'Bryant, an HSU defensive back, had two assists – his third and fourth of the season – against East Central and smashed a potential touchdown pass on the fourth and second quarter goal to stop a Tiger Drive. His four interceptions lead the GAC and are tied for second in Division II.
Allen averaged 48.5 on punt returns and added 12 yards on punt returns in a 49-10 win over Southern Nazarene. He returned the opening kick for 69 yards to set up a touchdown, and his 109 versatile yards led the team.
ATU WINS TWO VOLLEYBALL AWARDS
RUSSELLVILLE – Emily Ragsdale and Brianna Merkel of Arkansas Tech were named the GAC's offensive player and setter of the week while East Central's Alejandra Delgado was the league's defensive player.
Ragsdale had 11 kills and hit 0.409 in a straight set sweep against the No.19 Oklahoma Baptist and followed with 11 kills in a four-set win over Southern Nazarene.
Merkel averaged 10.71 assists over the week as the Golden Suns extended their winning streak to 10 games. Merkel had 33 assists, six digs and two aces against the Bison before registering a double-double against the Crimson Storm with 42 assists and 12 digs.
Delgado averaged 6.18 digs per set in a 3-0 week for the Tigers. She tallied 28 in a four-set win over Texas A & M-Commerce and a season record 31 in a four-set win over Arkansas-Monticello.
UAM STURARO WINS A GOLF AWARD
RUSSELLVILLE – UAM's Chiara Sturaro has won the GAC Golfer of the Week award.
Sturaro wins medal honors at the Central Region preview on Tuesday. She completed consecutive even-numbered rounds to finish the 36-hole event tied with Jacqueline Klemm of Arkansas Tech. She went on to win the playoff title and her eight birdies tied for the tournament lead.