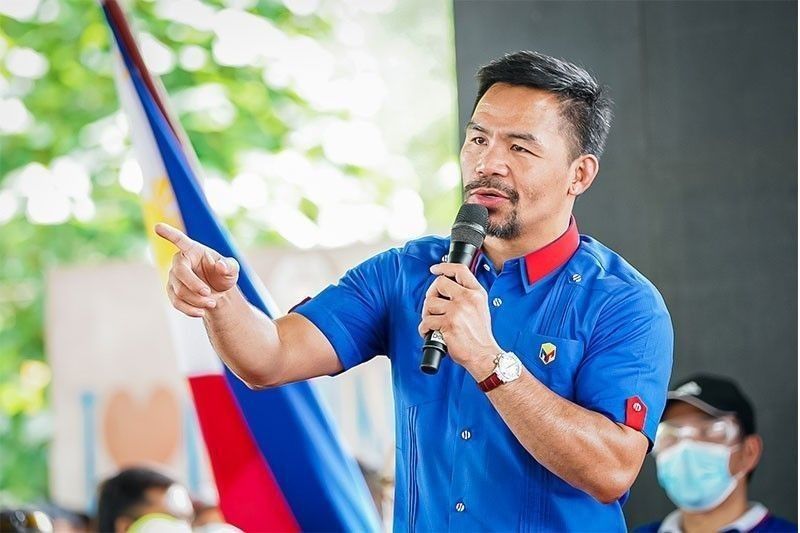 Pacquiao wants an end to 5-6 and excessive interest on loans
February 20, 2022 | 00:00
MANILA, Philippines – Presidential candidate Senator Manny Pacquiao said yesterday that he wants to criminalize loan sharking and other loan sharking practices that have plagued cash-strapped Filipinos over the years.
At a press conference at the town hall in Cainta, Rizal, Pacquiao said his government would end the oppressive loan schemes commonly known as 5-6 – a practice where lenders charge 20% interest per month, which means that when a borrower borrows five pesos, he must repay six pesos.
"I don't agree with this practice because the 5-6 is not humane, because it only increases the burden of the poor who need to borrow money. Imagine, 20% interest per month. It only makes people more indebted and makes it harder to get debt back up," Pacquiao said.
He said small businesses are the usual victims of loan sharks who take advantage of their desperate situation.
To end this practice, he said he would ask Congress to pass legislation that would criminalize excessive interest charges on loans.
"It's really illegal because instead of helping, they add to poverty," he pointed out in Filipino.
Besides criminalizing oppressive loan schemes, Pacquiao pledged to create a fund that would be used to provide zero or low interest loans to micro-small and medium-sized businesses.
Pacquiao said that due to systemic corruption, the government lacks the capacity to initiate programs that would provide credit facilities to poor Filipinos.
"I'm going to set up a fund that would give capital to the poor, and all they need to give back is what they borrowed without profit or interest," he said.