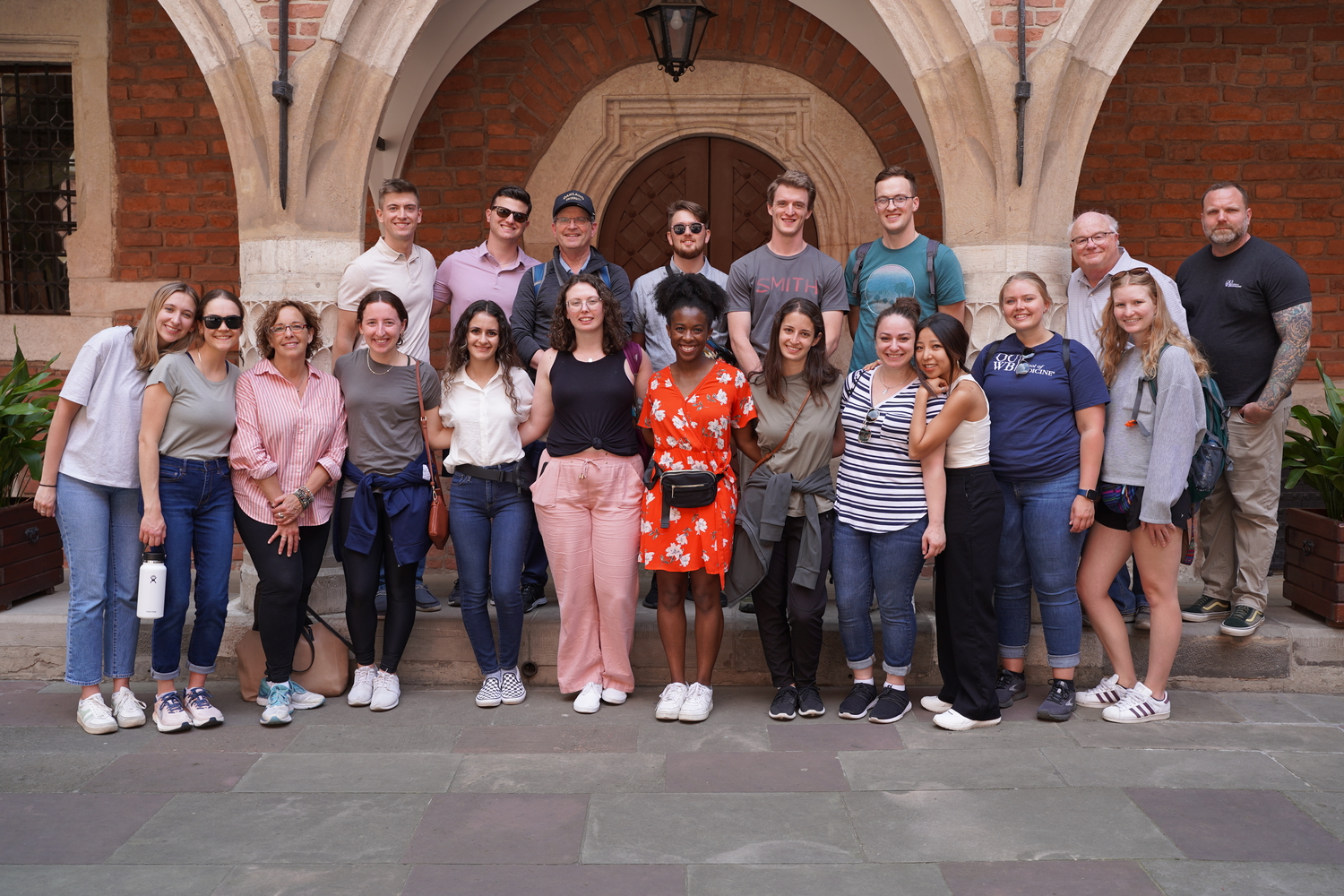 OUWB medical students learn about Jewish life in Poland on deep dive into Auschwitz
Nineteen students from Oakland University's William Beaumont School of Medicine spent the first part of the week in Krakow, Poland, preparing for a visit to a World War II concentration camp in as part of the school's Holocaust and Medicine program.
Led by a local tour guide, Tuesday and Wednesday allowed students to see firsthand how Jews lived before the war — and how that world was thrown into chaos when the German Nazis attacked in 1939.
On Tuesday, students toured Krakow's Jewish Quarter, including the Remuh Synagogue (Synagoga Remuh), a small Renaissance synagogue dating to the 1500s; the adjacent Remah Cemetery, one of the oldest existing Jewish cemeteries in Poland; and visited the Oskar Schindler Factory to see a permanent exhibition titled "Krakow under Nazi Occupation 1939-1945".
On Wednesday, the students visited several other important sites in Krakow – the Jewish Museum of Galicia, the Eagle Pharmacy, the Ghetto Heroes' Square, the Main Square in Krakow's Old Town, the Jagiellonian University Museum Collegium Maius and Wawel Cathedral.
"Everything has been an acceleration of the study that will be conducted at Auschwitz," said Jason Wasserman, Ph.D., associate professor in the Department of Basic Medical Studies and co-director of OUWB's Holocaust and Medicine program.
Specifically, he said he helps students learn "Jewish history in Poland and Polish history."
In an unprecedented study at a US medical school, students will visit Auschwitz on Thursday and Auschwitz-Birkenau on Friday. The two days will also include lectures related to the Holocaust and medicine, as well as reflective writings, discussions, and more, all designed to inspire students to reflect on the implications of the Holocaust for their own personal and professional development. within the medical profession.
"The first two days set the stage for the central experience (of the study trip to Auschwitz)," Wasserman said.
Hedy Wald, Ph.D., clinical professor of family medicine at Brown University's Warren Alpert Medical School and co-director of the OUWB's Holocaust and Medicine program, echoed Wasserman's thoughts.
"Students mentioned that they are grateful for this stay in Krakow because it prepares them emotionally (for Auschwitz)… I am struck by this," she said.
"The story repeats itself"
Tour guide Aleksandra Kowalczyk has been leading visitors on Krakow tours for 15 years and has led them on both days for OUWB students. She said it was important to understand the past to prevent the atrocities of the Holocaust from being repeated.
"Unfortunately, we can observe history repeating itself," she said, noting Russia's current attack on Ukraine. "That's why we always emphasize the importance of remembering the past to not allow it to happen again."
Tour guide Aleksandra Kowalczyk (right) talks to medical students from the OUWB in Krakow, at Ghetto Heroes Square in Poland, June 15, 2022.
For students, seeing the sites helped recognize the realities and horrors of the Holocaust and World War II.
For Jonathan Blake, it was during Wednesday's visit to the Jewish Museum of Galicia.
This is where the students visited the exhibit called "Sweet Home Sweet: A Story of Survival, Memory, and Returns". The exhibition is dedicated to three generations of the same family and explores how the memory and stories of the Holocaust are transmitted through the generations and how the children and grandchildren of survivors engage in contemporary Poland.
The tour guide explained how one of the family members who survived the Holocaust saw Poland as a post-war graveyard due to the tragic nature of what happened.
"He didn't want his kids smiling when they were taking pictures out of reverence and respect for people…it changed my perspective," Blake said. "It's become more than a fact…it's someone's life story."
Saini Kethireddy was moved to tears when an 82-year-old Holocaust survivor addressed the group after the visit to the Jewish Museum in Galacia.
Via the interpreter, Lidia Maksymowicz shared her harrowing story of surviving the Holocaust. She was taken to the concentration camp at the age of 3, separated from her family.
"You can read people's memoirs and quotes, but just seeing and hearing it in person like this makes it so much more real," Kethireddy said. "When we visit Auschwitz, it will seem more real to us."
Kethireddy also said Maksymowicz had an impact on her when she told students that "the world is in your hands" when it comes to repeating history and how people treat others.
"It touches my heart and I'm inspired to make the right choices more often," she said.
Kaycee Fillmore also said learning about the pre-war culture of area Jews was beneficial.
"I really enjoyed seeing the culture before going to Auschwitz and seeing the devastation that resulted from the Holocaust," she said. "It's good to have information about how the Jewish people lived before their lives were turned upside down."
For daily updates and more on the OUWB study trip to Auschwitz, click here.
For more information, contact Andrew Dietderich, Marketing Writer, OUWB, at [email protected]
To request an interview, visit the OUWB Communications & Marketing webpage.
NOTICE: Unless otherwise stated, all articles are published under a Creative Commons Attribution 3.0 License. You are free to copy, distribute, adapt, transmit, or make commercial use of this work as long as you credit William Beaumont School of Medicine, Oakland University as the original creator and include a link to this article.