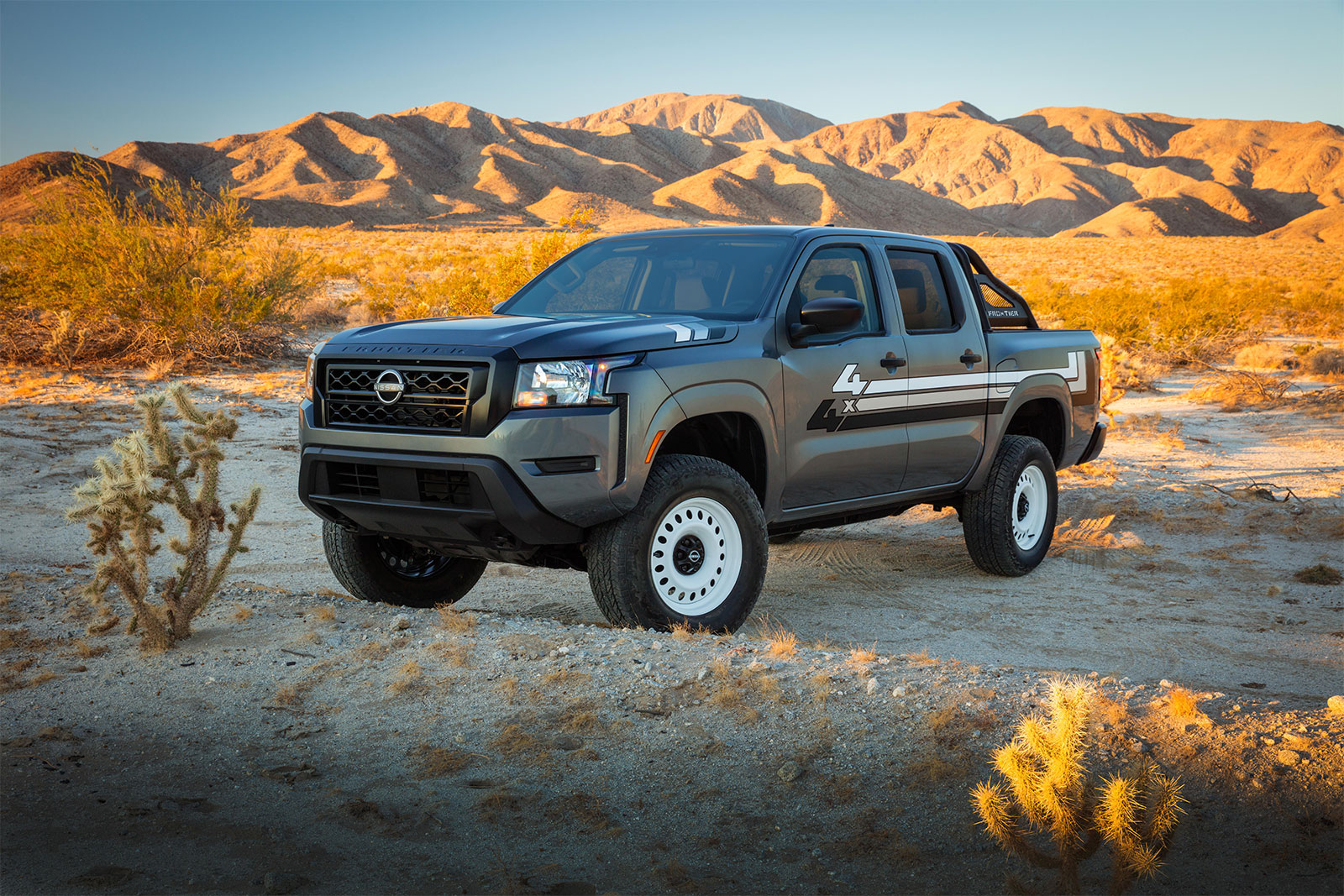 Nissan's new Frontier trio show off the truck's retro roots
After launching the new, redesigned 2022 Frontier in the fall, Nissan's design studio has developed three concept trucks for its debut at the 2022 Chicago Auto Show.
The three concepts, Project 72X, Project Hardbody and Project Adventure, are all based on the 2022 Frontier Crew Cab platform. They each cater to three different mid-size truck audiences and start with three different Frontier quality levels – S, SV and PRO-4X.
"Truck culture is now very broad – off-roaders, surfers and kayakers, environmentalists, outdoor fishing and hunting enthusiasts and more," said Hiren Patel, chief designer of the project, Nissan Design America, Inc. in a press release.
"The commonality is that they all use their trucks as canvases for customization. We have three styles to show how they might modify their own new Frontier."
All three Frontier concept trucks are made from Nissan parts and accessories and aftermarket parts are available with custom designed parts and graphics.
Nissan Frontier Project 72X Frontier
Based on the 2022 version of the Frontier Crew Cab S 4×4, the Project 72X is a modern take on Nissan's classic Datsun 720.
The 720 was first introduced in the fall of 1979 and eventually became the first vehicle assembled by Nissan in the United States at the Smyrna, Tennessee, Vehicle Assembly Plant in 1983. Nicknamed the " Lil Hustler," the affordable truck was advertised for outdoor enthusiasts.
Nissan's 2022 rendition consists of gray exterior tones and graphics with white painted steel wheels. The rig rolls on aftermarket 2022 Frontier spare wheels wrapped in PRO-4X tires. The Project 72X has a Calamini 2.5-inch lift with adjustable upper suspension arms and a sports bar behind the cab.
Nissan Frontier Project Hardbody
The Hardbody project pays homage to the Nissan D21 "Hardbody", which was the first truck design made by Nissan Design America. The name "Hardbody" comes from its double-walled bed and aggressive stance. The design was a champion in on-road and off-road competitions.
The latest Hardbody project is built on a 2022 Frontier Crew Cab SV 4×4. The build features a 3-inch lift kit with adjustable upper control arms, current-model PRO-4X fenders.
It rolls on classic Nissan Design America Hardbody block-style wheels wrapped in 33-inch BFGoodrich All-Terrain TA tires. There is a spare tire carrier mounted on the bed.
The concept truck has a sport bar with modern 10-inch rectangular LED lights, blacked-out front end and door graphics with an 80s-style shadow outline.
Nissan Frontier Project Adventure
The final concept represents Nissan Design's take on the industry's overland landing trend. Project Adventure is based on a 2022 Frontier Crew Cab PRO-4X. It carries a 5-inch lift kit and a 34-inch all-terrain tire. The build includes a Yakima bed carrier system, Yakima LoadWarrior roof basket, sky tent, and Bluetooth bed audio system by Kicker.
A key feature of Project Adventure is the custom body wrap, depicting a view of the United States
The concepts won't go on sale, but some of their components are available for consumers to use to upgrade their Frontier through their Nissan dealership or aftermarket specialty store.