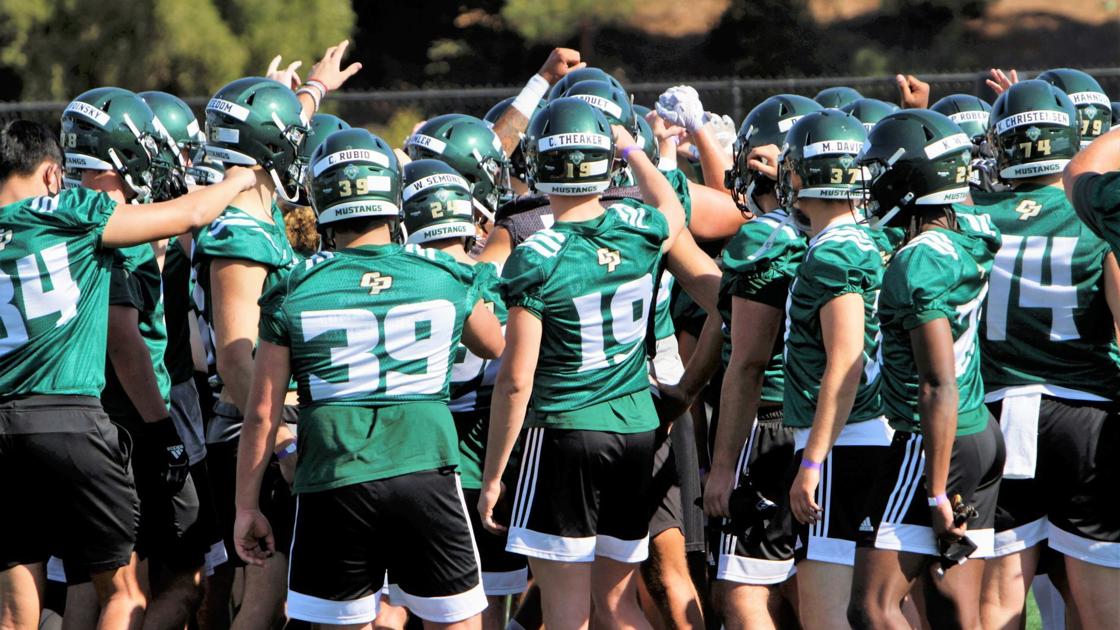 Mustang Roundup: Swimming and Diving Open This Friday, Golf at Husky Invitational, Women's Volleyball Kicks Off Big West This Weekend | University sport
Cal Poly athletics is in great fall form. Find out more about the games, matches and tournaments that Mustang athletes will be participating in this week and weekend with these briefs provided by the Cal Poly Athletics Department.
Cal Poly Swimming & Diving opens the 2021-22 season on Friday
SAN LUIS OBISPO, Calif .– Cal Poly's men's and women's swimming teams kick off their 2021-22 season on Friday by hosting Cal for their annual King and Queen of the Pool pentathlon. The competition will begin at 11 a.m. at the Anderson Aquatics Center.
Each swimmer will compete in five 100-yard runs, including butterfly, breaststroke, individual medley, backstroke and freestyle. The swimmers with the best combined times from each school will be crowned King and Queen of the pool.
The perennial center of varsity swimming, Cal's men's swim team finished second in the NCAA for the 11th consecutive year in 2021, while the women's team finished fourth in the nation last season.
At last summer's Olympics in Tokyo, there were a total of seven female swimmers and four male swimmers from Cal competing.
The Mustangs return 23 swimmers and divers on the women's side and 23 on the men's side. Among those who return is second-year male swimmer Kieran McNulty who last season became the first Mustang to be named MPSF Freshman of the Year. In 2020-21, McNulty became the first Mustang since 2013 to win two individual conference titles. He made it to the MPSF Championships, winning the 500-yard and 1,650-yard (one-mile) freestyle events. Her times in the 200 freestyle, 500 freestyle, 1000 freestyle and 1650 freestyle were all the team's fastest times last year.
Senior Gennady Sytnik is also back in the men's, who broke the school's long-standing record in the 100 backstroke last year. He broke Peter Kline's record of 48.25 held since 2011 with a time of 48.03 at last year's MPSF Championships.
Returning to the women's side is senior diver Joelle Weltner, who broke the school's 1m diving record last year after scoring 281.55.
Following Friday's meet, Cal Poly will hold their annual Green Against Gold meet on Friday, October 1 at 6 p.m. ET.
– This report was written by Connor Leary of Cal Poly Athletics Communications
Cal Poly drops to 15th place in final round of Husky Invitational
BREMERTON, Wash .– Cal Poly's men's golf team, which fell from 15th place to a three-way tie for 12th in the second round on Monday, fell to 15th place at the end of the Husky Invitational on Tuesday.
Coach Phil Rowe's Mustangs clocked a total of 11 over par 299 for four on the 7,155-yard Olympic course at par 72 at Gold Mountain. Added to rounds 293 and 289 on Monday, Cal Poly finished with a total of 54 holes and 17 over par 881.
After second-round leader Washington by 17 strokes entering the final round, Nevada, sixth, recorded laps of 67, 69, 70 and 70 for a total of 276 under par and overtook the Huskies with 846 aggregates under. the normal. Washington recorded a total of five above par 293 on Tuesday.
Oregon State was third, followed by Boise State and San Jose State.
Tied for 19th place after 36 holes of play, Cal Poly's Joey Zambri slipped 10 places after a final round 76 and finished tied for 29th place with a total of two over par of 218. His teammate of Mustang Nicholas Mok, also tied for 19th, fell to 40th with a 78 in the final round and a total of 220.
Competing in his first collegiate tournament, freshman Baron Szeto managed six birdies in a final round of 70 and jumped 18 places in a tie for 44th place. Also on Szeto's map there were two bogeys and a double bogey as he finished the tournament with a total of five over par 221.
Other Cal Poly scorers were Will Draper with a 75 for a total of 223 and a 55th place finish, and Luke Adam with a 78 for a 228 total and a tie for 69th place.
Brandon Eyre of Oregon State moved from fifth to first in the individual standings with a total of 69 in the final round and a total of 207 under par, a stroke ahead of Mikey Siesinski of Saint Mary's and RJ Manke of Washington. Siesinski finished with a 72 while Manke, the leader after 36 holes, posted a 73 in the final round.
There were 16 teams and 80 golfers on the course.
Mok finished first in the field in par total with 42 while Zambri was fourth with 14 birdies.
In a companion tournament for individuals played on the Cascade course, Austin Liu of Cal Poly finished tied for 20th place with four other golfers, all tied for 216. Liu followed Monday's 73 and 70 with another 73.
Cal Poly will participate in the Windon Invitational hosted by Northwestern on September 27-28 at the Lake Shore Golf Club in Glencoe, Illinois.
– This report was written by Eric Burdick, Cal Poly's Assistant Sports Director for Sports Communications
Cal Poly Women's Volleyball opens Big West Play this weekend in Long Beach State, Fullerton
SAN LUIS OBISPO, Calif .– After completing a tough non-conference schedule last week, the Cal Poly volleyball team will now be focusing on getting the Big West game started this weekend on the road.
The Mustangs (2-9) will start the conference game Friday at Long Beach State at 7:00 p.m. They will then make the short drive inland to face Cal State Fullerton on Saturday at 5:00 p.m. Fans will be able to watch both matches live and follow live statistics. Links for these can be found on the volleyball calendar page.
Cal Poly was put to the test on his non-conference schedule. The Mustangs have faced five Top 25-ranked teams in their 11 non-conference games. Cal Poly has lost all five of its games. However, the Mustangs took No. 22 Pepperdine to five sets and No. 9 Washington to four sets despite the absence of their All-American transfer Maia Dvoracek and West Virginia Kristina Jordan, who averaged 2.94 wins per set in 2019 with the Mountaineers.
The Mustangs' offensive point guard so far this season has been senior outside hitter Jamie Stivers. Stivers averages 3.20 kills per set and 2.45 digs per set. She had three double doubles and six games with double-digit wins. Rookie Redshirt away from batter Tommi Stockham and junior center blocker Meredith Phillips were also strong offensively. Stockham is second on the team in kills at 2.63 per set and Phillips is third at 2.50 while hitting 0.321. Phillips also leads the team in blocks at 1.10 per set.
Cal Poly has also bet on his youth this season. Of the 40 sets that have been played this season, four freshmen have played 16 or more. Two of those freshmen, libero Peyton Dueck and center blocker Kate Slack started all 11 games. Dueck is averaging 4.20 digs per set leading the team, which ranks second among all Big West players. Slack averages 1.23 eliminations per set and 0.55 blocks per set.
Long Beach State finished the non-conference with a 6-5 record. Most recently, they just knocked down 3-1 against the No.21 San Diego last Saturday. Long Beach State's offensive point guard this season has been junior forward Kashauna Williams, who averages 4.77 kills per set, ranking him 12th in the nation. Long Beach State leads the all-time series 46-24. However, Cal Poly has won five of the last six clashes.
The Titans enter the Big West with a 3-4 record and come off a win over Cal Baptist last weekend. Fullerton has been led this season by second outside hitter Julia Crawford. Crawford averages 4.04 eliminations per set, which ranks second among all Big West players. Cal Poly leads the 58-10 all-time series and hasn't lost to the Titans since 2013.
Cal Poly in the polls: In the Big West preseason coaches poll, the Mustangs were chosen to finish second in the conference. Cal Poly received a total of 111 points and four of 11 first-place votes. They finished just behind the defending conference champion Hawai'i, who received 117 points and the other seven votes for first place.
Teammate Setup: Junior passer Avalon DeNecochea currently ranks eighth in program history for career assists with 2,409. She needs 176 more assists to move up to seventh.
His career single-game assists record is 59, which happened in a 2019 game against Pepperdine.
Old and New Faces: The Mustangs are returning eight players from their 2019 roster while welcoming 13 newcomers to the squad. Returning for the Mustangs, passer Avalon DeNecochea and center blocker Meredith Phillips, both selected for the 2019 All-Big West first team. DeNecochea averaged 9.48 assists per set, 1.62 digs per set , 0.62 blocks per set and 0.29 aces. per set in 2019. Phillips averaged 1.80 eliminations per set and led the block team to 0.90 per set in 2019.
Other Cal Poly returns include red-shirted senior outside hitter Jamie Stivers, outside hitter Nicole Cavote as well as release / defensive specialists Lea Ungar and Taylor Rose. Stivers played the first 10 games of the season, averaging 2.00 eliminations per set before injuring his knee in a game against Colorado State. Cavote played in 27 sets in 2019, averaging 1.37 eliminations per set. Ungar played in the 110 sets in 2019 as a defensive specialist, averaging 2.12 digs per set and even received the Big West Defensive Player of the Week award once during the season. Rose appeared in 78 sets in 2019 as a defensive specialist, averaging 1.49 recoveries per set.
Meanwhile, key 2019 player Maia Dvoracek, who was an AVCA selection of Third Team All-American and First Team All-Big West will miss the 2021 season with a knee injury she suffered. suffered in the spring.
The 13 newcomers to the squad this season include three transfers, three red-shirted freshmen who were on the squad in 2020 and seven real freshmen.
Strong in conference: Since 2017, the Mustangs are 44-4 in Big West games. This includes a perfect 16-0 record in 2017, a 15-1 record in 2018 and a 13-3 record in 2019.
Cal Poly won the Big West conference title in 2017 and 2018 and won the conference title five times in total.
– This report was written by Connor Leary of Cal Poly Athletics Communications