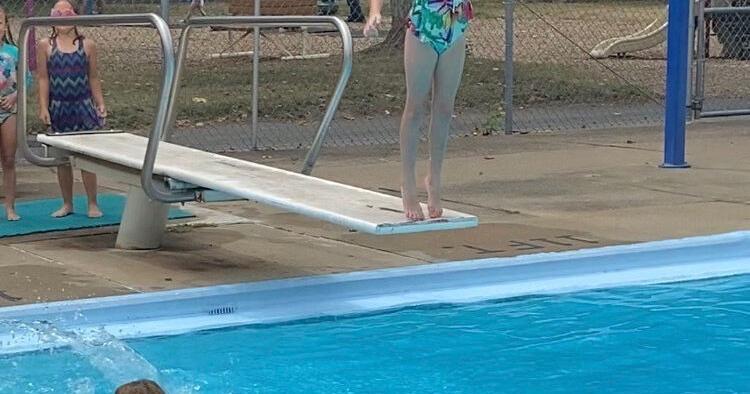 Mifflinburg Kiwanis helps pay for swimming lessons for children | New
MIFFLINBURG — Kiwanis members in Mifflinburg are doing what they can to help children in their community learn a necessary skill like swimming.
Mifflinburg Kiwanis recently offered full refunds to more than 60 children who took swimming lessons at the Mifflinburg Community Pool. If children attended eight out of 10 class days of level one and two swimming lessons, families were reimbursed for the $75 fee they paid when they registered.
Annie Smith of Mifflinburg Kiwanis said children living in an area with many bodies of water should have the situational awareness needed to swim.
"It's such an essential life skill for children," she said.
Smith said many parents said they couldn't have afforded the lessons without Kiwanis' help.
"That's probably the best part is that we've taught this skill to kids who otherwise wouldn't have been able to afford it," added Annie Smith.
Desiree Smith brought her 6-year-old granddaughter, Giuliania Smith, for lessons.
"She couldn't go underwater before those lessons," Smith said. "They've done a wonderful job with these kids."
Desiree Smith said they were very grateful for the Mifflinburg Kiwanis Chapter.
"Mifflinburg Kiwanis was instrumental in creating the pool," said Sally Rothermel, secretary of Mifflinburg Kiwanis. "We have always supported swimming lessons and the needs of the pool.
"We have a passion for helping kids swim," she said.
Rothermel said the lessons teach children to have confidence in the water and to save themselves if they fall in the pool.
In addition to paying for swimming lessons, Mifflinburg Kiwanis also paid $365 each to have six lifeguards certified as water safety instructors.
"Kiwanis exists to support children in local communities," said Annie Smith.
In Pennsylvania, Kiwanis International reports that more than 302,653 total early learning guides have been distributed to families as of December 15, 2020; 17 scholarships awarded to undergraduate and graduate students, including Key Club and Circle K; and over $24,000 in grants and programs.
Annie Smith organized and led the local's blueberry campaign. According to her, the chapter sold 1,200 10-pound boxes to raise money for the swimming initiative.
"It's something we've been trying to do for over 20 years, but haven't done for the last two years," she said.
Rothermel said the club had received several positive comments about the swimming lessons.
"They have a privilege they didn't have, so it's worth it," Rothermel said.