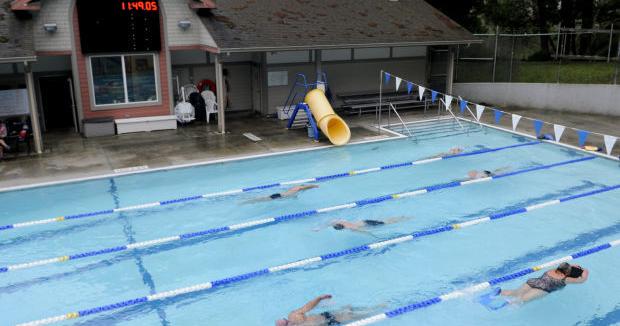 Marshfield, North Bend Swimmers Place at State Meet | Sports
The Marshfield boys placed in all three relays as the Pirates finished seventh in the Class 4A-3A-2A-1A State Swimming Championships team race in Tualatin on Saturday.
All races have been timed finals this year, instead of the traditional two-day format, due to the ongoing COVID-19 pandemic.
Marshfield got the bulk of his points in all three relays, with the best result coming in the 400-yard freestyle relay that concluded the encounter, where the Pirates finished third with the quartet of Aaron Hutchins, Markus Kliewer, Jack Waddington and Trey Kirk finishing in 3 minutes and 30.77 seconds.
Catlin Gabel won that race to clinch the tag team title with 53 points. Newport was second with 39, followed by St. Mary's with 36 and Madras with 27. The Pirates scored 23 points and also finished behind Marist Catholic and La Grande, who both had 24.
Marshfield finished fourth in the first 200 medley relay with the same foursome finishing in 1:48.15. The 200 freestyle relay of Hutchins, Waddington, Trevor Robbins and Quinton Kloster finished fifth in 1:38.20.
Waddington was fifth (1:04.84) ​​and Hutchins sixth (1:06.57) in the 100 breaststroke. Kirk finished sixth in both distance races, clocked in 1:53.08 for the 200 freestyle and 5:14.95 for the 500 freestyle.
The first six of each event are classified.
Kloster was ninth in the 200 freestyle (2:04.26) and 10and on reverse (1:05.11). Kliewer was ninth in the butterfly (1:00.42).
There was a new competition record for the boys. Asa Frisbee of St. Mary's broke Kevin Waller of North Bend's 2011 record in the 200 freestyle clocking 1:41.71. Waller's mark was 1:42.11.
Marshfield had a place among the girls, with Allison Wright finishing fourth in the butterfly with a time of 1:03.36. Kally Haynes was 10 years oldand in the 500 freestyle (6:00.59) and Wright was eighth (1:06.24) and Haynes 12and (1:09.12) on the back. Sweet Home's Chloe Tyler set a new meet record in this event with her time of 56.49.
Marshfield's 200 medley relay placed ninth, the team of Wright, Kally Haynes, Nyssa Haynes and Isabelle Hale clocking 2:08.74.
Sweet Home won the tag team title with 87 points and Catlin Gabel was second with 66. Newport (25) and Henley (18) won the other two trophies.
CLASS 5A: The North Bend boys finished seventh in state competition on Friday.
The Bulldogs got the bulk of their points in a single event, when Trenton Parrott, Henry Hood, Finley Cheal and Mavrick Macalino combined to place third in the competition-closing 400 freestyle relay, finishing in 3:30 minutes. .34 seconds.
That same race decided the team title as Crescent Valley beat West Albany, nearly setting a new meet record with a time of 3:13.78. These two teams entered the final race tied for the lead.
Macalino and Cheal also placed in their two individual events. Macalino was fourth in the butterfly (42.61) and sixth in the 50 freestyle (22.70). Cheal was fourth in the individual medley (2:01.06) and sixth in the butterfly (54.71).
The relay quartet nearly made it to the podium in the 200 medley relay, finishing seventh in 1:48.90. Parrott, the only other individual participant from North Bend, was 11and at 500 free (5:37.39).
A pair of Midwest League swimmers had big days in the record books.
Crater's Marcus Gentry set an OSAA and Class 5A backstroke meet record with a time of 47.45 and an individual medley meet record with a time of 1:49.60.
Churchill's Charley Page-Jones also set a new OSAA and meet record, winning the butterfly with a time of 47.63.
Page-Jones was fresh out of OSAA and broke records in the 50 freestyle, which he won with a time of 20.39.
Crescent Valley finished with 65 points, while West Albany had 61. The other two trophies went to Redmond (34) and Parkrose (26). Corvallis had 25 points, Willamette 17 and North Bend 16. Crater and Churchill both had 14 points, thanks to individual wins for Gentry and Page-Jones.
The North Bend girls had a setter, Rebecca Witharm, who finished sixth in the 200 freestyle with a time of 2:04.14. She also ranked 11and in the 500m freestyle (5:38.80) when Gillian Baxter was 11and breaststroke (1:16.57).
The Bulldogs finished eighth in the 400 freestyle relay with the group of Emma Slade, Morgan Hoefs, Baxter and Witharm. North Bend was 12and in the medley relay with the quartet of Witharm, Baxter, Slade and Abby Woodruff.
Churchill edged Crescent Valley for the girls' tag team title by beating the Raiders in the final event after taking a one-point lead in the relay. The Lancers also won the medley relay.
Helena Jones of Wilsonville set two meet records, in the 50 freestyle (22.96) and 100 freestyle (49.83).
Churchill finished with 60 points, to Crescent Valley's 55. Redmond finished third with 44 and Hood River Valley took the final trophy with 31.