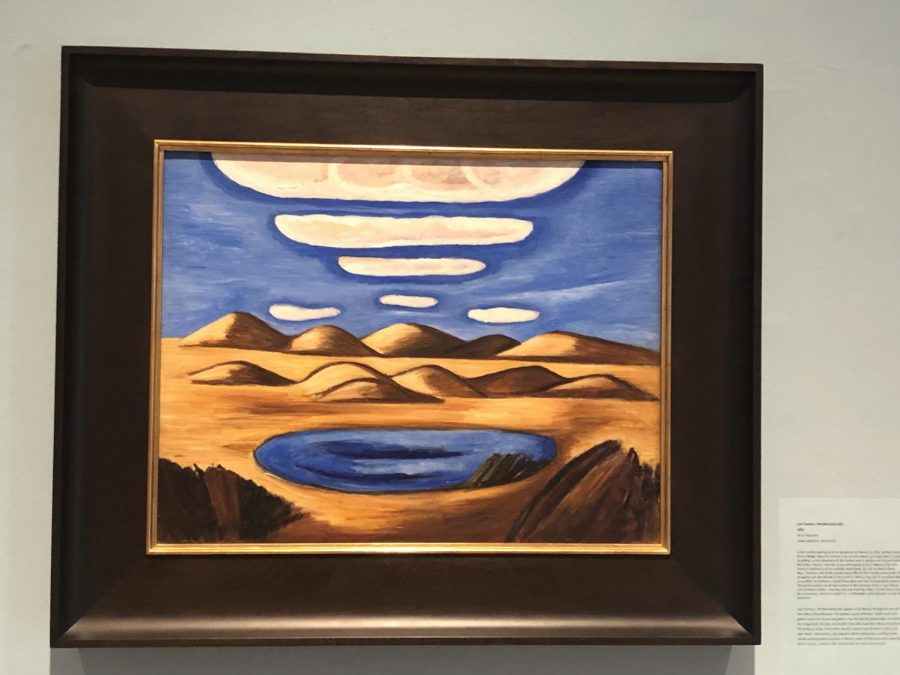 Live an Adventure with Marsden Hartley – The Bates Student
As a senior, you would probably think I saw every foot of our home in Lewiston, Maine. Well you would be wrong. I've known the Bates College Museum of Art since I first set foot on this campus, but only entered it last week. I didn't know what to expect from our museum. I had heard from peers that the space was "small," so I expected there to be not much to see. What greeted me instead was a room filled with paintings, sketches and personal effects from Marsden hartley – the subject of the last exhibition, "Marsden Hartley: Adventurer in the Arts".
Marsden Hartley was a native of Lewiston who was born in 1877. He would go on to become one of the greatest American Modernist painters whose work has been shown in several museums around the world, including the Metropolitan Museum of Modern Art. However, his art is not new to Bates College. Indeed, his work is the subject of a collection founded by the Bates Museum of Art: The Marsden Hartley Memorial Collection.
Although Hartley was born and eventually died in Maine, he did not stay here all his life. Throughout his life, Hartley traveled to Europe, Mexico and the Caribbean Islands. During his travels he discovered many different artistic styles, including his characteristic abstract style, which he found in Berlin.
In terms of subject matter, there are a few paintings of people including Jesus Christ in the collection, but Hartley's most common subjects were still lifes and landscapes.
As an expressionist and abstract artist, Hartley was known for his unique use of color. This aspect of his paintings struck me immediately. Hartley has managed to masterfully combine warm colors, such as yellows, reds and oranges, alongside cool greens, blues and purples throughout a single piece.
This is evident in paintings such as "Schiff" and "Lost Country — Petrified Sand Hills". The vibrant reds and yellows of "Schiff" complement the soft blues and whites of the room beautifully. Surprisingly, according to the museum, this exhibit is the first time that "Schiff" was shown in the United States
Likewise, the vivid blues featured in "Lost Country" particularly lighten the sand surrounding the apparent oasis. Looking at this room, I felt like I could just dive into this water and enjoy the sun.
The museum contains more than paintings and sketches by Hartley; it also features the artist's personal effects, such as watches, photographs and personal art tools. One of those objects that I found particularly intriguing was his palette. There were two, actually: a classic flyer with paint that didn't look dry at all, and a second that was a board with color descriptions underneath.
The museums I have been fortunate enough to visit so far did not feature artist's tools like the Bates Museum of Art owns Hartley's. Usually I would just go by those small pieces and search for the main artwork in a collection. However, the privacy created by the museum allows the public to enjoy each piece inside the room. Space allows you to slow down and enjoy the intricacies of an artist's life.
One of the most intimate details of the collection includes the "Mt. Katahdin". A description of these sketches indicates that Hartley once wrote to his longtime friends about his relationship with Lewiston: "
If we're lucky Lewiston is our home for four years; in recent years many of us have not had the pleasure of residing here for a variety of reasons too many to count. I hope many Batesies would identify with Hartley's statement as well. When we leave this place which has radically changed us, it is an honor to identify with it radically.
"Marsden Hartley: Adventurer in the Arts" is open until November 19. On Thursday September 30 at 6:00 pm, the main curator of the exhibition, Emily Schuchardt Navratil, will give a Zoom lecture on "Marsden Hartley: Adventures in the Archives." Registration for the exhibition is available on the museum's website website.