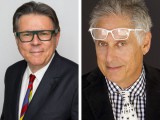 Kidscreen »Archive» Genius Brands acquires Wow! Unlimited
Genius Brands International has acquired the Canadian prodco Wow! Unlimited Media for approximately $ 53 million in cash and stock.
In a statement, Genius Brands CEO Andy Heyward (pictured right) explained that the strategy behind the acquisition is access to Canadian tax credits, as well as a plan to bring in-house all animation productions currently managed by Chinese service companies.
The Canadian operations of Wow! will continue to operate as a separate company, but there was no information at the time of publication on how US operations would be affected.
Genius plans to launch the partnership by adding content owned by Wow! to its Kartoon channel! OTT network, as well as explore new consumer products and global distribution opportunities for these IPs. He also intends to make full use of the full-service animation studio of Wow !, to expand into animation for teens and young adults and to exploit the large presence of Wow! on YouTube to develop its own AVOD business.
Founded in 2016 through the merger of Rainmaker, Frederator and Ezrin Hirsh Entertainment, Wow! has offices in Toronto, Vancouver, New York and LA, and has produced content for Netflix, Amazon Prime, Sony, Hulu, DreamWorks, Moonbug, Peacock and Mattel. The company also operates Frederator Studios (Adventure time), Mainframe Studios (Madagascar – A little wild) and the YouTube Channel Frederator, which operates more than 2,500 channels that have collectively racked up over one billion video views.
According to a press release, Wow! generated $ 56.4 million in revenue from June 2020 to July 2021, and it has more than $ 62 million in contract production work slated for next year. Creative Director Fred Seibert announced his departure from the company in August 2020, handing over his role to CEO Michael Hirsh (pictured left). Hirsh will continue to lead Mainframe, Frederator Studios and Channel Frederator and its platforms, and he will also join the board of directors of Genius Brands.
Los Angeles-based Genius Brands acquired ChizComm, another Canadian company, in November 2020. The marketing and media agency (which runs a media research, planning and buying division) operates as a business independent under the aegis of Genius.