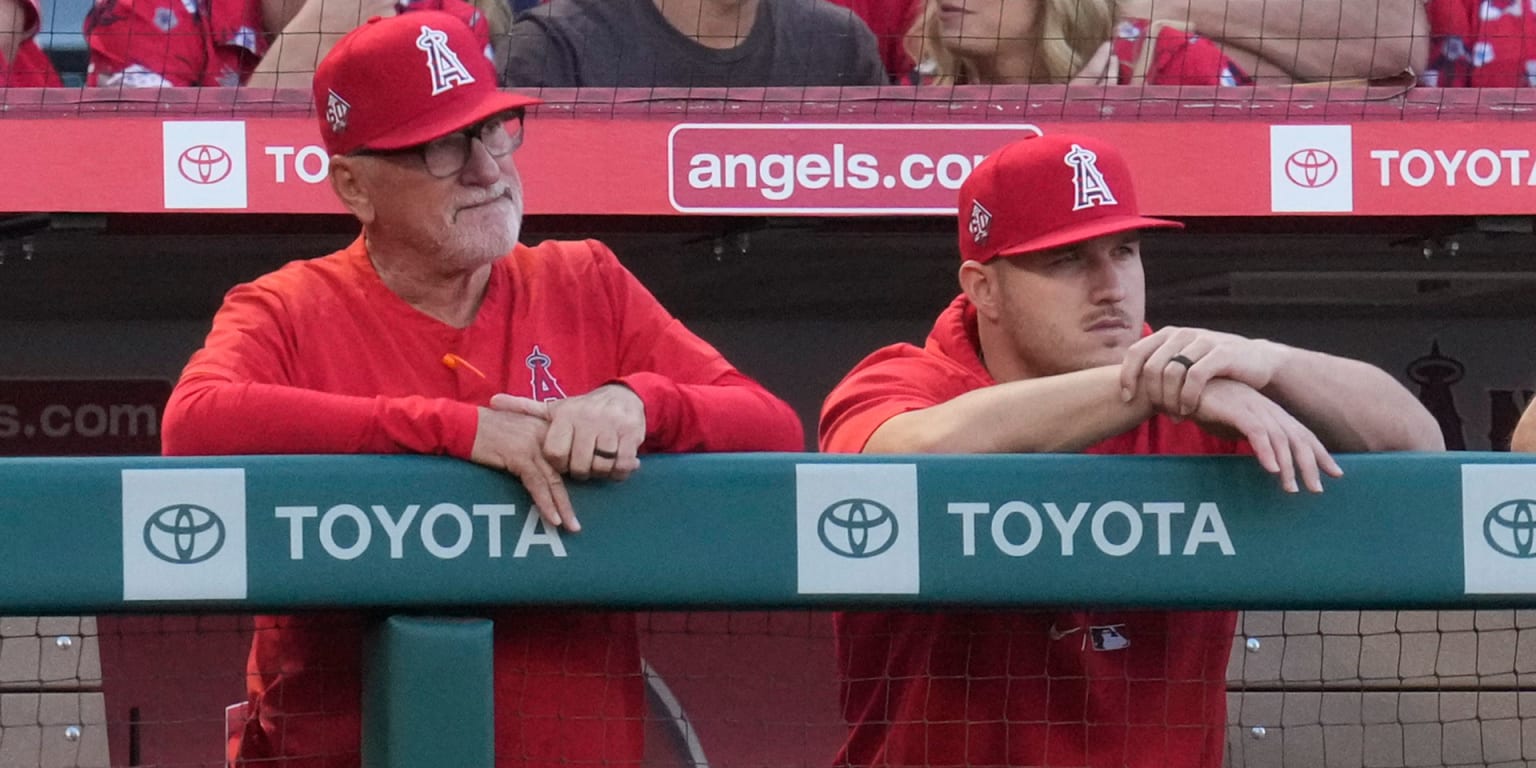 Joe Maddon talks about Mike Trout possibly leaving center field
TEMPE, Ariz. — It was the official date for the Spring Training Across Baseball Sunday report and Angels manager Joe Maddon met the media for the first time since the lockdown in early December.
Maddon had a lot to say about the upcoming season. Here are five takeaways from her 20-minute session:
1. The Angels consider moving Trout off center field
Superstar Mike Trout is coming off a year that limited him to just 36 games due to a season-ending right calf injury in mid-May. As a result, Maddon said they might be careful with him this year and move him to an outside corner. Former top prospect Brandon Marsh got his first taste of the Majors last year and is considered a strong defender in center field.
Trout, 30, has played center field exclusively since 2014 but has played 124 career games on the left and 17 on the right, as he saw some time in the corner outfield early in his career when Peter Bourjos was on the list. Trout said at the end of last season that he had no desire to move away from the center, but Maddon said they would talk to him about it this spring.
"We talked about it, but I have to talk to Mike," Maddon said. "Playing on center field every day in the major leagues after a serious injury, it's not going to be easy. But neither of them is the open field at our ballpark. It's getting really big . So there's a lot to discuss. No conclusions have been drawn."
2. Ohtani is in good health and on a similar level to last year
Two-way sensation Shohei Ohtani has had a healthy offseason and made another visit to Driveline's Arizona branch to continue working on his mechanics. Wide receiver Max Stassi attended a few of his bullpen sessions in early February and said Ohtani looked as strong as last year when he unanimously won the AL MVP award. Maddon said they don't plan to change much with Ohtani as it worked so well last season. But he would like more specifics on how to use Ohtani as a hitter with the universal designated hitter in place.
"We have to make sure [MLB] it's going to be good for him to hit when he throws," Maddon said. "I don't know if this has already been discussed. He has to hit or we'd be the only team playing by NL rules when he throws."
3. The Angels haven't finished adding players this spring
The Angels made some notable moves early this offseason, like signing pitchers Noah Syndergaard, Raisel Iglesias, Aaron Loup and Michael Lorenzen. They've been quiet for the past few days, other than agreeing terms to a one-year contract with receiver Kurt Suzuki on Saturday. But Maddon said general manager Perry Minasian is looking for more throwing help and maybe a shortstop before the season starts.
"Perry is still working to add a few more names to our group," Maddon said. "We haven't finished but we have made good progress."
4. Open Competitions at Shortstop and for Starter #6
Aside from throwing, the club's biggest weakness is at shortstop. Maddon said he sees Andrew Velazquez as the current leader, ahead of Luis Rengifo and Tyler Wade. All three will compete for the job, but there's still a chance the Angels will get a shortstop. Carlos Correa and Trevor Story remain on the market, but it's still unclear whether the club would make those kinds of sensations. And with Ohtani, Syndergaard, Lorenzen, Patrick Sandoval and Jose Suarez considered locks for the rotation, that leaves one more place open. The Angels could sign a free agent or make a trade, or they could go for inside options such as Griffin Canning, Jaime Barría or Reid Detmers.
5. Maddon remains in the final year of his contract but is open to an extension
Maddon signed a three-year contract as Angels manager ahead of the 2020 season, and he confirmed he has yet to be approached for an extension. But he made it clear that he wanted to be restrained.
"I don't mind, because I've been there before," Maddon said. "But, of course, I'd like to stay here, but we'll see how it all goes. I haven't been approached yet. That's where it's at. But I'd like to do this for several more years. "