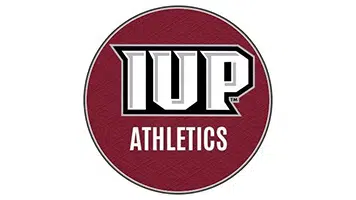 IUP ANNOUNCES 2022 HALL OF FAME CLASS
From IUP Athletics:
Indiana University of The Pennsylvania Athletic Department (IUP) announced its 11 members Entrance of Fame Classroom of 2022.
The class is made up of nine former student-athletes, a coach, and a team that represent nine different athletic programs and make up the department's 27th initiation class. The Coach/Administrator and Team categories are new to this year's class, with Tony Medvetz and the 1993 Football Team, respectively, being the first to be inducted.
The Athletic IUP Entrance of Fame Classroom of 2022:
Marc Bridge, athletics, 1998-2002
Rich Dahlgren, baseball, 1966-1970
Nafee Harris, athletics, 2007-2011
Erin Holloway, softball, 2007-2011
Shawn Kunes, football, 1987-1991
Akwasi Owusu-Ansah, football, 2006-2010
Kathy (Ewing) Tattiosain, cross-country/athletics, 1983-1987
Daryl Webb, basketball, 2007-2011
Katie Woodruff, swimming, 1991-1995
Tony Medvetz, tennis, 1999-2008
1993 football team
"We are very pleased to announce our Entrance of Fame integration class for 2022″, declared the director of the IUP of Athletics Todd Garzarelli "Through their successes and contributions, these 10 individuals and a team have brought so much pride to our university, the athletic department and their respective athletic programs, and they deserve to be celebrated this fall.
"It's another great class of filled with so much talent and so much achievement, and I look forward to welcoming you of them in our Entrance of Fame in September."
This year Entrance of Fame The class will be officially inducted on Saturday September 24 before the IUP football game against Mercyhurst.
The new inductees bring the total to 302 former athletes, coaches and administrators, and teams who have made significant contributions to IUP athletics and enhanced its image and reputation and are now registered in IUP Athletics. Entrance of Fame.
Below more details about the IUP Athletics Entrance of Fame Classroom of 2022.
brand bridgeAthletics 1998-2002 National javelin champion in 2002… Triple All-American in javelin ('99,'00,'02)… Still holds the IUP record for the event at 237'02".
Rich DahlgrenBaseball 1966-1970 Captain of Team of 1969 … NAIA District 18 and Western PA Collegiate All-Star in 1969 … Drafted by the Atlanta Braves in the 30th round of 1969 entry draft.
Nafee HarrisAthletics 2007-2011 Four-time National Long Jump Champion (2x indoor, 2x outdoor) … Seven-time All-American … 2010 Atlantic Region and PSAC Outdoor Athlete of the year… PSAC and IUP record holder in the long jump… Ran the second fastest time in the IUP over 55m in the 2010 decade.
Erin HollowaySoft ball 2007-2011 First-Team All-American, Atlantic Region and PSAC Center Pitcher of the year in 2011 … Led the IUP to the program's first-ever PSAC title and an appearance in the Division II World Series … Graduated as the school's all-time leader in all categories of launchers.
Shawn KunesSoccer 1987-1991 Three-time All-PSAC West selected on the ofdefensive line … Part of team that reached the Division II national title game in 1990 and made back-to-back national semi-final appearances…Part of two PSAC title teams ('87,'90).
Akwasi Owusu-AnsahSoccer 2006-2010 All-American as both defensive back and all-around back in 2009…Eight interceptions in 2008…Seven career punts and kickoff return touchdowns…Selected by the Dallas Cowboys in the fourth round of the 2010 NFL Draft … Won the Gray Cup with the Toronto Argonauts of the CFL in 2017.
Kathy (Ewing) TattiossainCross-country, athletics 1983-1987 All-American in 1,500 meters at 1986 NCAA Championships…Still holds IUP record in 1,500 meters at 4:28.7…Most Valuable Track Athlete at PSAC Outdoor Championships in 1986…Part of 1985 cross country team that finished third at NCAA Championships.
Darryl WebbBasketball 2007-2011 NABC Division II player of the year in 2011… Two-time All-American… Led IUP to 2010 Division II title game, program's first… 2010 Atlantic Region Tournament MVP… Ended career in as the program's all-time leader in points (1,949), rebounds (1,214) and blocked shots (162).
Katie WoodruffSwim 1991-1995 12-time All-American…Captain in 1994-95…Set IUP records in three individual events, five relays…PSAC champion, conference record in 200 freestyle relays…Five top-10 finishes at nationals long course swimming in the United States.
Coach/Administrator CategoryTony MedvetzTennis 1999-2008 Women's Tennis Coach from 1999 to 2008…2003 ITA East Region Coach of the year… Led IUP to first-ever and three consecutive stints in NCAA Division II Tournament (2002-04)… Set program era record with 18 wins in 2004 … Owner of Indiana FastTimes screen print.
Team category1993 football teamEarned a berth in NCAA Division II title game… Was 13-1 overall, won PSAC West with a league record 6-0… Defeated Ferris State , New Haven, North Dakota in the Division II playoffs… Had three All-Americans, 14 All-PSAC combined winners… Coached by Frank Cignetti.
.