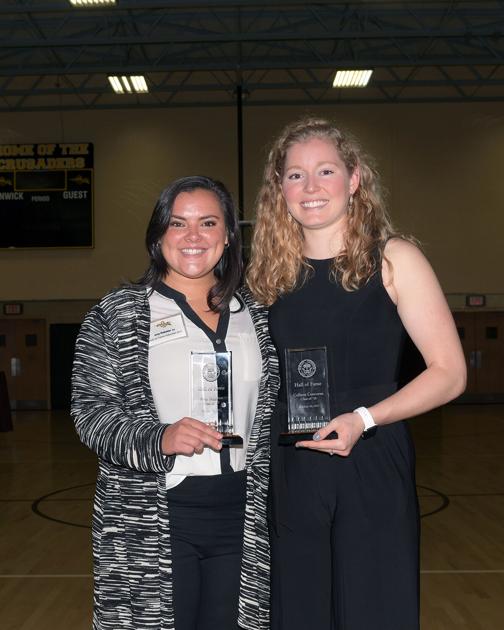 Hall of Fame Bishop Fenwick inducts final Hall of Fame class | Sports
PEABODY – A six-star cast as well as the 1980 women's cross country team were inducted into the Bishop Fenwick Hall of Fame at the school's Crusader Square on Saturday night.
The inductees featured a multitude of sports and ranged from 1972 Steve Czarnecki to 2016 graduate Colleen Corcoran.
Corcoran and fellow Beverly native Amy Pelletier (class of 2011) have had great success in their basketball careers at Fenwick and college. They were each presented on Saturday night by Crusaders women's basketball coach Adam DeBaggis.
Pelletier is one of four Crusader women to have scored 1,000 or more points in her career, finishing with 1,219 points and 344 assists). Former Salem News player of the year, three-time Catholic Central League star and two-time team captain, she led her team to the Division 3 North final in her sophomore and sophomore years. .
Pelletier and Corcoran said they wished they could play together. "We texted and she is an amazing natural athlete. It's a shame I couldn't play with her; she is a much better athlete than I am, "said Pelletier.
"This night is surreal; I am so touched to be here. Ten years have passed and you don't think about it, but Adam called me to tell me the news. I come in with such an exceptional group of athletes. The girls I played with were actresses; we had so much fun together. They helped relieve the pressure and taught me to be more relaxed when I got to college.
Pelletier received a scholarship to Stonehill College, where she captained the Sky Hawks and led them to Sweet 16. Once again, she joined the Thousand Point Club with 1,217 points and broke the World Record. school for the most three points (267). With a degree in finance, she worked in New York for five years before returning home; she is now in Salem and works for the same company as a senior vice president of Silicon Valley Bank. His brother Eric, who was in attendance on Saturday, is also at the Fenwick Hall of Fame as a member of the 2004 champion baseball team.
Corcoran is a graduate assistant coach of women's basketball at the University of Albany. When she got the call from her old high school coach, she thought he had a player interested in college.
"When he told me I was entering the Hall of Fame I was overcome with emotion," said Corcoran, a two-year-old captain who led the Crusaders to the Division 3 state championship. as a senior. "I am both honored and touched to receive this award at a great school. "
Twice named Salem News Player of the Year, Corcoran scored 975 points and was a three-sport captain and CCL star in soccer, basketball and lacrosse. She received a scholarship to LeMoyne College where she once again captained the Dolphins, leading them to the league playoffs every four years and the NCAA tournament in 2019-2020.
"My goal is to be a Division 1 varsity head coach or maybe in the WNBA or the NBA," she said. "Basketball has given me so much that I want to give back to the sport that made me who I am."
Peabody inductee Nick Bona (class of 2014) is the only three-time Crusaders football captain and has been a starter for four years. CCL MVP, Salem News and All-State player of the year as a senior, he has made 219 tackles this season 499 for his career, setting school records in both cases. As a quarterback, he led his team to an unbeaten season and the 2013 Super Bowl Championship before moving to Stonehill on scholarship.
Once again, he was a tackle machine, with 132 unassisted in his final year and 234 in his career. The team captain has been named the All-Northeast-10 second team for defense. Bona majored in criminology and is a correctional officer for the Essex County Sheriff's Department. He will go to the police academy next month before joining the Lynn Police Force.
"Honestly, I thought it might happen at some point, but it's a lot sooner than I ever thought it would," he said. "I'm back here at Fenwick to help my former coach Dave (Woods) with the football team for three years. I want to give back and pass on knowledge and wisdom to children, because sport has given me so much.
A star of two sports in hockey and golf, Chris Garofalo (Class of 2004) grew up in Peabody. He was a two-time hockey captain and four-year-old, among the state's top scorers as league MVP and senior.
A graduate of Endicott College, he played hockey and majored in finance. He graduated from SNHU with a Masters Degree and continues to golf with a handicap of 5. His wife Jen (Linehan) is also a graduate of Fenwick, and they have three children and now live in Beverly. He was a volunteer assistant hockey coach for the Crusaders for two years.
"It completely surprised me because I never considered myself a special athlete," said Garofalo, whose two sons recently started playing Beverly Youth Hockey. "But Bill Linehan suggested this to me, and I'm delighted to be in this class."
Posthumously inducted, Cara Linehan Buckwell (Class of 2001) was a two-year swimming captain who went to Division 1 at the University of Maryland on a scholarship. The breaststroke and individual medley were his favorite events. She returned to her alma mater to coach swimming for 10 years, and the team have gone undefeated in their last three games. She was responsible for developing the program.
She ran the Boston Marathon to raise funds for liver research in honor of her sister Laura. Buckwell tragically died in 2017 from lung cancer, leaving her husband and baby daughter. Former swimmers were on hand to honor their coach on Saturday night.
Steve Czarnecki was a highly respected cross country and track coach for Fenwick, who led 106 combined track and field seasons. He finished with an incredible 82% winning percentage, including a 2017-18 Women's Cross Country State Division Championship, a seventh place at the Nationals as a New England qualifier in 2017, and 12 athletes qualified for the national championships. He was named Salem News coach of the year for men's track and field and women's cross country.
Czarnecki also coached track and field at Salem State for 12 years, where he led the Vikings to 10 NCAA D-3 National Championships and is in the college Hall of Fame. A resident of Salem, he was a teacher / administrator at Fenwick for 43 years.
The 1980 women's cross country team with graduates in 1981-84, won the All-State Championship for the first time in Fenwick's history, going undefeated, ending an incredible season with victories over the best teams in six or seven states and finishing with the D-3 title in Eastern Massachusetts.
Contact Jean DePlacido @JeanDePlacidoSN