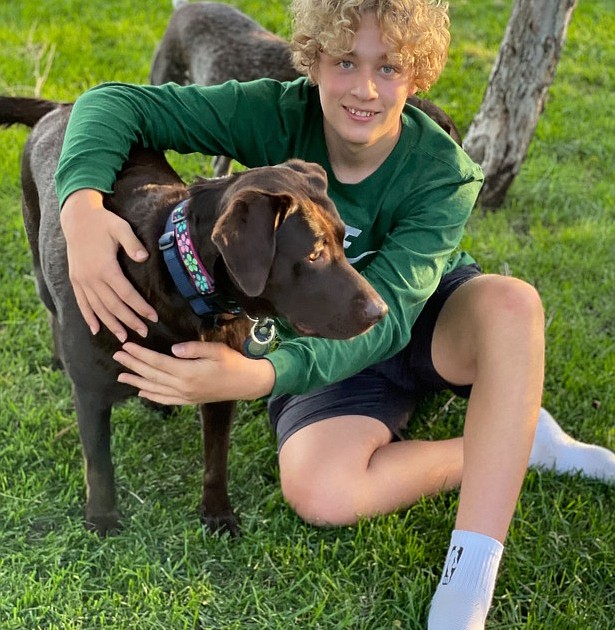 Ethen Samuel Phelps | Daily Inter Lac
Ethen Samuel Phelps left this world on September 19, 2021, the same way he arrived – quietly, surrounded by love from his family. While his arrival brought smiles and laughter, his passing brought a lot of heartache and pain. His presence was so powerfully invigorating and his absence is so powerfully heartbreaking.
Ethen was so richly good. He was like a coin, he could be the strong and sure big brother at one point and the docile and loving son who purposely emptied the dishwasher for his mother the next day. He could concentrate intensely on a game of chess and then move immediately at his father's request to happily feed the dogs. He could sit quietly on the outskirts of a conversation, then land the smartest comment with perfect timing and delivery. Ethen was comfortable drawing in his bedroom and confident to lead his younger siblings on an adventure. He wasn't afraid to admit he didn't know how to do something, and brave enough to step up, learn, and try.
Ethen was a peacemaker and catalyst who was able to live happily in two different homes with two different parent groups. He never made anyone feel less than, judged or compared. He loved with deep gentleness and reassuring acceptance. He was the best and brought out the best in all of us, multiplying kindness and love wherever he went.
Ethen was the son that all parents dream of having. The kind of grandson that every grandparent is proud to have and the brother that everyone needs. Ivee will forever miss his road trips listening to music with him. Mathew will always remember their adventures together while on vacation, especially the family ranch in California, and Sage's trampoline seems empty without her big brother jumping on it with it. Ethan will cherish the friendly chess skirmishes the two have shared.
Ethen's kindness was felt by her friends as well as her family. He wasn't pushed to be popular, or image-focused. He sought out those in need and found in others the same kind of goodness that he himself had. Ethen was a great teammate who loved all the sports he played, but really loved basketball. He didn't need the spotlight, but gave his all to help others be successful.
Ethen was a kind and sensitive boy, who grew into a strong and competent man. As he developed skills in areas such as carpentry, fly fishing, cooking, and golf, he also retained the conscious, compassionate and intuitive side of the artist. He not only saw the detailed lines and nuances of life, he could capture them with his pencil. Ethen did not miss the astonishing wonder and glory of the world in which we find ourselves. He saw it and could help us all see it too. Our lives are forever changed!
Ethen spoke best with his smile. Like a sunrise emerging from the darkest part of the night, her face began to wear a smile that transformed into the glow of a smile that lit up a room. His passing has hit us like a hurricane, the darkness is intense and the storm is raging. Yet every day since his death has had rainbows of promise. Rainbows that remind us that the storm is passing; that God is good and restores, rebuilds and resuscitates all this in the power of love.
Eten, your memory will forever be engraved in our hearts. We will take your lessons on love, friendship, compassion and peace. The lessons that you have so willingly shared, and do our best to do the same. May you rest our gentle Ethen in peace, and may you know how much you are loved.