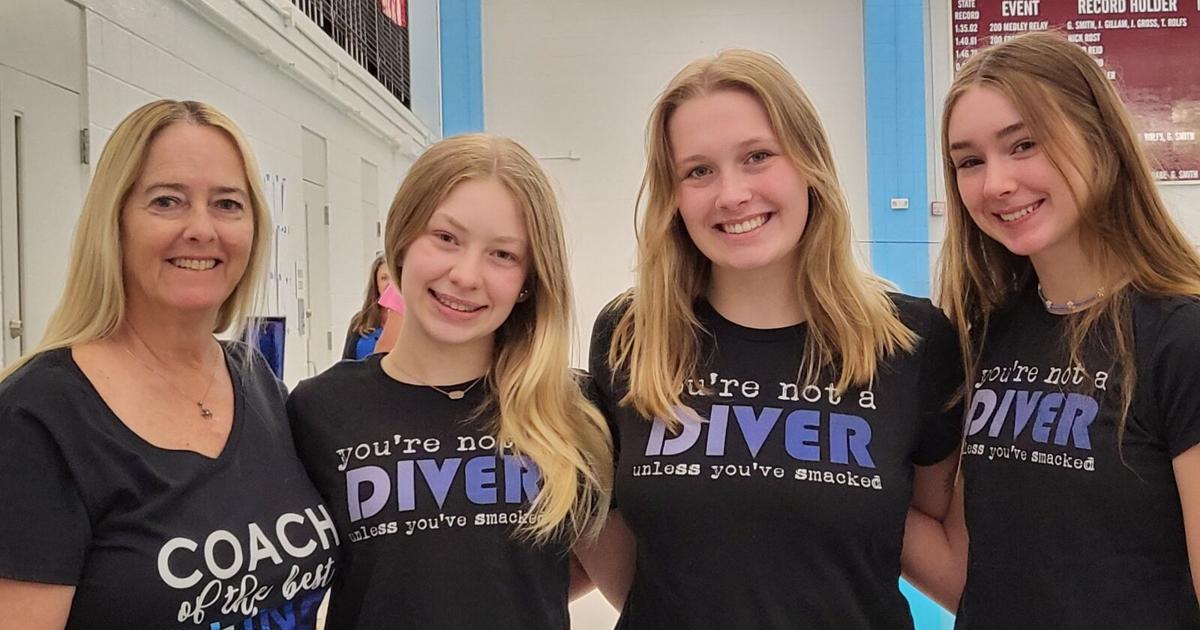 EHS Dive Team Celebrates a Great Season | Free
How many high school teams can claim that all of their athletes will compete in a state championship?
Girls from Emporia High School who dive can make this statement emphatically. Its divers will "represent" at the May 19 state meeting.
Of course, achieving this feat takes skill and determination, but also strong relationships.
"The bond I have with these girls definitely pushed me to do my best," said senior diver Cadance Vincent. "And I think that bond pushes them too, because we're so comfortable with each other. We know how to push each other.
Other divers expressed a similar sentiment.
"Well, the encouragement from both of them helped a lot," said sophomore Divinity Gardner. "It helped me overcome the fear of it all. And it's just a good complicity in diving and out of diving.
Junior Jacey Stutler said developing friendships with Vincent and Gardner made for a much better season experience.
"I feel like we all support each other," Stutler said. "And we all encourage each other to do the dives that we struggle with…I really like having them on my team."
Leadership and guidance are obvious factors in qualifying divers in the state domain. Barbara Clark runs the diving program – she has worked at Emporia since the 1980s – and is responsible for mentoring these girls.
"Well, you have Cadance, who was upper class…she and Jacey brought Divinity under their wing and helped her," Clark said. "You know, the camaraderie is really good…there's no drama, which is good."
The girls feel that they have made significant progress throughout their participation in the program. Vincent is ranked number one in six 5-1A dives and second in 11 dives.
"I've definitely improved a lot since first year," she said. "And just since the start of this season, I've learned so many new dives.
Gardner joined the diving program bringing a background in gymnastics – Clark was the gymnastics coach for 25 years and recruited gymnasts for diving – which helped her transition into the sport. Vincent and Stutler also have experience in gymnastics.
"Well, I had no idea what I was doing when I got in there…and I certainly learned a lot, and it all just happened, I wouldn't say easy, but it really got me helped to have a background in gymnastics," Garner said.
And Clark really believes in these girls. She hopes Vincent can win a state title this year. The senior placed second in 2021.
"I had…I think 11 state champions," Clark said. "So it's been good, and it's going to be good if I can convince Cadance to get her this year. So our goal is to get her in there for senior year. And then the other two girls beyond the podium.
And with Clark's accusations, it's all about love and belief. Stutler said Clark's communication style and constant encouragement are very helpful.
"I love Barb…I feel like I couldn't even ask for a better coach," Stutler said.
Vincent recognized that Clark is the main motivating factor within the team dynamic.
"She's been there every step of the way in the seasons I've been diving," Vincent said. "She pushes us to do our best…and we all love her very much."
Gardner says Clark is one of the best coaches she's ever had.
"She's never too rough," Gardner said. "But she gets you where you need to be. And it pushes you where you need to be. And that's just awesome.
As for Clark, the end of the coaches road seems to be fast approaching.
"I feel like next year may be my last year. I think my husband is ready for us to go in the winter and be warm.