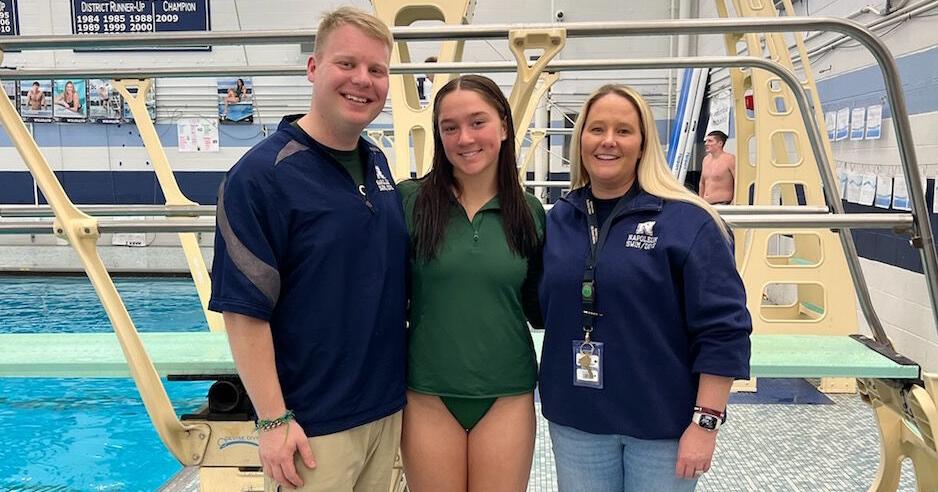 Diving Spotlight: Melia de Tinora Makes Its Mark on Northwest Ohio Diving | local sports
NAPOLEON — Five years ago, when Napoleon Diving Club co-coaches Mike Retcher and Kristin Shepherd watched Hunter Rex score 300.35 in six encounters, they didn't think they'd ever see anyone again reach 300.
But barely five years later, they saw him again, and it was not from a student of Napoleon, or from a boy.
It came from Lauren Melia senior of Tinora on her senior night and when she arrives in Guangzhou next week for the State Diving Championships, it will be her fourth appearance at the event.
She broke countless records at Tinora, mostly her own, and last Wednesday she broke the district record with a personal best of 490.55. But scores and championships are only a small part of why Melia has left a permanent mark on diving in the region.
Melia, who competed in gymnastics for 10 years before college, got into scuba diving the way so many people get into things – because her friends wanted her to.
"My seventh year, I came home with a friend of mine from gym practice and they were talking about checking out this dive club in Napoleon to try scuba diving and I was like 'if my friends are doing it, then I want to do it," Melia said.
She jumped between gymnastics and diving for about a year, then in her eighth year she decided to take up diving full time. It didn't take her coaches long to realize just how good she could be.
"When she got to seventh grade, we knew straight away that she was going to be someone with a lot of talent and at the time, for those two years, she had been doing gymnastics full time." says Search. "Diving and gymnastics have always been inseparable, so it was a pretty easy transition.
So her parents made a commitment to drive their daughter 25 minutes to and from practices every day, and Retcher, alongside co-head coach Shepherd, continued to coach Melia and a lot of victories, including three district championships, placing in the top ten. in a national diving event and placed fourth at the state meet last year.
At this year's district championship, when she broke the all-time district record, she didn't even have to take her last dive to win the competition.
"It was amazing. He is one of the easiest young people to coach who has taken part in the programme. She always has a good attitude. She already had the hard work ethic she learned from gymnastics," Retcher said. "And she still works her tail every day."
All of this might not even have been possible if Retcher and Shepherd and the Napoleon School District had not opened their doors to surrounding schools.
Letting girls of other girls in and training them was an easy decision. It was for the love of sport.
"One of the main reasons we try to bring in kids from other schools who may not have the practice facilities they need or may not have a place to they can spend enough time on the board, it's because without that the sport dies," Berger said. "I think our passion for diving is the reason we have this open door policy, because we care too much about the sport."
Melia is just one of many athletes in the area who have benefited from the facility and she is certainly grateful.
"I am so incredibly grateful. It's as if they wouldn't open their doors to me, none of that would literally be possible. So, just like all the administrative staff, I am very grateful to them and I certainly cannot tell them enough because none of this would be possible without them," Melia said.
Children from all over the region join the Napoleon Diving Club in middle school, and when they enter high school, they represent the school district they go to. The club currently has divers from eight different communities.
Getting some of the best diving talent in one place has obvious benefits. Most notable being that the divers have a lot of competition in training which prepares them for the big competitions where they will also see the best divers in the state.
"I think it's really hard for young high school athletes to get motivated or realize what it's going to take. Having teammates to feed and push you day in and day out is what helped take our program to the next level," Shepherd said.
"We used to have a star in the team and when you're just so much more advanced than everyone else you don't realize what's going on until it's too late. We had a girl at the state meet who said she didn't realize the competition would be this good because she didn't see anyone who showed her what the competition would be like.
Now, it's not just one girl getting noticed. The club sends six girls to the state as Mara Cashman (Napoleon), Lilly Lacey (Defiance), Elli Flieschman (Defiance), Emmalyn Dirr (Napoleon) and Tauren Davis (Napoleon) will all be in the state. This is the first time the club has sent six girls to the state meet where they will represent a quarter of the 24 divers.
Melia will headline the group, becoming the only fourth four-time state qualifier, boys or girls, in program history.
"It makes training so much more fun," Melia said of the benefits of having so much talent at the club. "Encouraging everyone and them encouraging me, our relationship this year and every year has been so strong and it's definitely made the practice a lot easier to come to every day."
"Even though they represent different schools, these girls are teammates and they see themselves as teammates. And having such elite athletes increases the overall competitiveness of the team," Retcher said.
In the state meet, of course, Melia hopes to win the state. Last year she finished fourth in the state with a score of 409.60, 81 points shy of her personal best and the way she finished this competition will give her the motivation to end her high school career better this year.
"We didn't have to set expectations on her, because she sets them herself. She wants to be state champion," Retcher said. "Last year she was really ready and ready to do it, but she missed a dive on the ninth lap and saw herself slip away from the podium."
Melia, however, is only focused on beating one person – herself. And that may be enough to win the state.
"My goal is just to beat my PR. I'm not super focused on anybody else. The competition is always tough, so I just want to fight," Melia said.
And while she can focus only on herself when she's on the diving board, it's quite the opposite.
Melia was one of the main reasons the club was able to grow and send the most girls to declare it has ever seen.
"When I started the club, the Napoleon Diving Club was quite small and over the years I have seen it grow," Melia said. "It's great because I love seeing all these new faces."
"She has spent a lot of time working with young divers, not only at the high school level, but also at the club level. So she really leaves her legacy to the program in more ways than one," Retcher said.
Melia's diving career won't end when the state meeting ends next week, as she will attend the University of Miami to major in political science and serve on the diving team there.
But when Melia steps onto the Oxford, Ohio campus next fall, no matter what she does in the impending state tournament, or in her future college career, she will still have left an impact on the sport of diving in northwest Ohio.
"When that 490 score came out on Wednesday, it was kind of surreal," Shepherd said. "It's like everything fell into place for her because she's worked so hard and been such a face of Northwest Ohio for the past four years. Her name will live on. etched in history, and I think she deserves it.