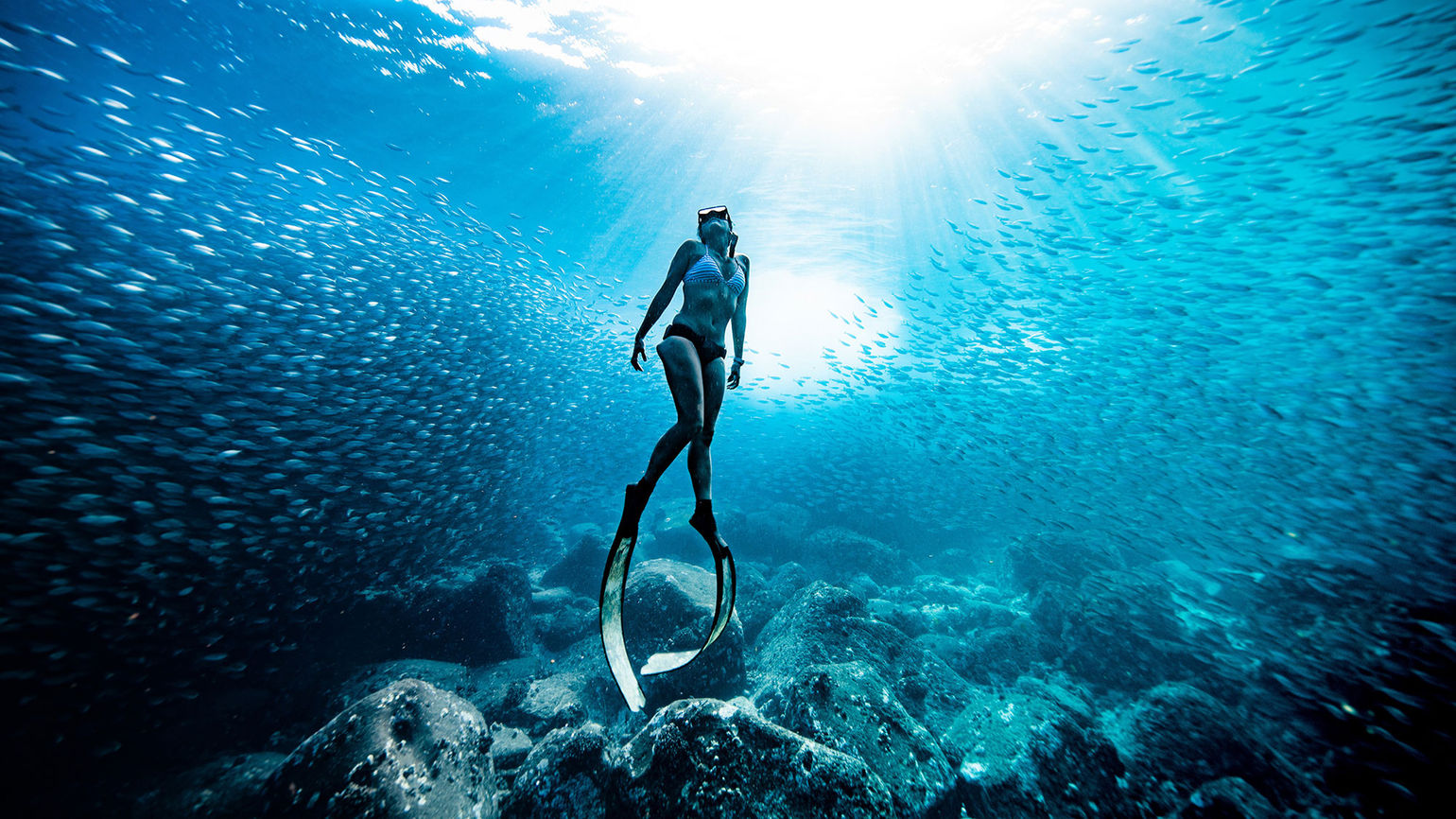 Deep dive into Four Seasons with Kimi Werner: Travel Weekly
The Four Seasons Resort Hualalai offers an exclusive new experience that allows guests to learn snorkeling and better understand the ocean ecology of famed waterwoman Kimi Werner.
Maui-raised Werner is a former U.S. National Spearfishing Champion and member of Hawaii's Freediving Hall of Fame who can hold her breath underwater for 4 minutes and 45 seconds. Her work has expanded over time to include culinary endeavors, ocean conservation, and art. Werner's Instagram feed, where her bio reads "Snorkeling spearfisherman. Mama bear. I love picking food straight from the source," is peppered with photos of her posing with beautiful, colorful plates. of freshly cooked food, floating underwater with a snorkel and flippers on and smiling while holding a newly speared fish.
The Four Seasons Resort Hualalai, located on the island of Hawaii, recently opened a new Marine Education Center as part of a $100 million property-wide renovation and prides itself on offering unique experiences and its ocean conservation efforts. When Hawaiian shoe company OluKai, which works with both Four Seasons and Werner, suggested a collaboration, regional vice president and general manager Charlie Parker said the match made perfect sense.
"We're on a mission to connect our guests to people and place in a way that's far more meaningful than just a laid-back resort experience," Parker said. "We're always looking to partner with like-minded people, people who connect with Hawaiian culture and do so responsibly. Kimi is a unique talent, a true storyteller, and a true character."
For the Kimi Werner Ocean Experience, participants spend two half days exploring the ocean and developing their freediving skills. The program begins with an introduction to snorkeling in Hualalai King's Pond, an 1.8 million gallon pool carved into lava rock with a sandy bottom that is home to more than 1,000 tropical fish.
Werner can work with both those new to freediving and those experienced in the sport, and she says the mental aspect of the challenge can be one of the most important to master.
"Mastering your own thoughts and how they relate to your breath and body performance is one of the most useful skills you can have in the ocean," Werner said. "Learning to overcome fear and step into the unknown, while having good graceful form – these are all things that I hope participants take away. These all form a foundation of fundamental principles that are beyond of value and will guide them every moment they enter the ocean."
On day 2, Werner takes the guests on a boat to practice what they learned the day before on the open sea.
"Diving the Kona Coast is truly spectacular," Werner said. "The clarity of the water there is like nothing else – there's a certain blue that stirs something in my soul every time."
First you dive, then you dine
The experience concludes with a four-course dinner and wine tasting with an emphasis on local ingredients led by Four Seasons Resort Hualalai Executive Chef Richard Polhemus. Werner herself is a trained chef and is an advocate for sustainable food systems.
"I would like people to connect with nature and the food we eat," she said. "It's an intimate and confronting journey, but one that I believe will make us more thoughtful, each in our own way. It's really something special to immerse yourself in a wild ecosystem and allow it to teach you and to feed you. It makes me think more about my own human imprint and my responsibility and appreciation for this earth and all living beings."
Additionally, Werner's husband, photographer Justin Turkowski, joins the experience and captures land and underwater images for the participants included in the package. The experience also includes a pair of OluKai shoes for each guest.
A lesson in conservation
A key part of the program is strengthening ocean stewardship, and Werner has seen first-hand changes in Hawaii's waters over time, including how human activity has dulled and damaged coral reefs.
"I used to follow my dad while he was spearfishing when I was 5," she said. "The memories I have of the vibrant colors of the coral make me realize how much the ocean has changed since then. Researching what makes the reefs so desolate and brown, I learned all about the runoff of water and how modern development, industrial agriculture, invasive plant species and more are destroying nature's watershed."
A portion of the experience fee will be donated to a local non-profit organization dedicated to ocean and coastal conservation in Hawaii.
Werner said that if attendees take away one thing from their time with her, she hopes it will be a deeper connection to the sea and a stronger will to be there as much as possible.
"My time in the ocean taught me to slow down; it taught me to be present," she said. "It sharpened my instincts and taught me to trust them. It gave me a confidence I had never known and filled me with an abundance of gratitude.
The Kimi Werner Ocean experience is limited to Four Seasons Resort Hualalai guests and is subject to availability. It is recommended to inquire at least one month in advance to book the program. The cost is $18,000, excluding room, and participants must be comfortable swimming and snorkeling in the open sea.