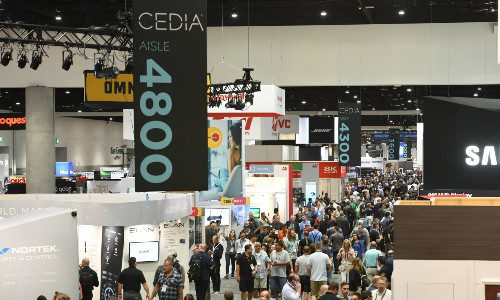 CEDIA Expo 2021 presents the innovation hub
[ad_1]
CEDIA Expo, an integrated residential technology platform where connected built environment integrators collaborate, launched a brand new programming location on the show during the event, which will take place September 1-3, 2021 at the Indiana Convention Indianapolis Center. , Indiana.
Called Innovation Hub, this is the brand new exhibition program where case studies revealing new and innovative solutions are presented.
Innovation Hub tackles rising market trends
Research reveals that "resimer" or residential technology integrators expect a 9% increase in crossover in commercial projects.
More precisely, after having carried out a "deep dive" in the "new hot spaces" emerging, CE Pro has identified several key areas of growth in the business sector. These "resimercial" or crossover spaces are a mix of residential applications that require more robust commercial technology as well as light commercial or "mainstreet" applications that appear commercial but have been supported by "lighter weight" technology systems. In the past and would benefit from commercial technology solutions designed and installed by residential technology professionals. Accordingly, according to CE Pro, integrators expect a 9% increase in revenue from commercial crossover projects over the next five years.
Light commercial applications performed by custom integration companies focused on residences such as bars, local restaurants, lounges, places of worship, local retail businesses and small meeting rooms and localized corporate offices , aka "Main Street", is the increased opportunity. Integrators are expressing their enthusiasm for this change in mix citing higher revenues, easier / cleaner installations and the opportunity to work with professional business owners.
To support this change of "mix", CEDIA Expo has created a new programming space specially designed to present case studies of technological applications telling the stories of who, what, when, how and why of some of these projects.
The "new hot spaces" that will be presented will include:
Live outside
Resimercial / Multi-family housing / Micro-condominium developments
Work at home
Home theater
Lighting
security
Smart water
The best brands supporting new opportunities
the Innovation hub will present more than 25 sessions over three days. Three different facilitators will initiate the daily programming, including reviewing data from the CE Pro "Deep Dive" research on cross / resimercial changes. While round tables on major industry topics will take place on the Smart Stage, the Innovation Hub offers the opportunity to take a different approach from brands that have successfully entered new market segments. To learn more about participation, please contact [email protected].
Daily hosts of the innovation center
As part of the Innovation Hub, CEDIA Expo asked several industry professionals to lead the daily question-and-answer sessions of the event and to recap CE Pro research information at the start of each day.
These experts include:
Charles Warner, CEO and Editor-in-Chief, Innovative Properties Worldwide (Innovation & Tech Today, Residential Tech Today, Cannabis & Tech Today, STM Canna)
Charles Warner is the CEO of Innovative Properties Worldwide. Charles founded Innovative Properties Worldwide in 2009 after eight years as CEO of Mainstream Media International, the country's largest publisher of college bowls. While working on these crown jewel publications, Warner developed a passion for developing the highest quality publications available.
Ed Wenck, Content Director, CEDIA Association
Ed Wenck is a writer and broadcaster who has won dozens of awards from the Society of Professional Journalists, the Association of Alternative Newsmedia, and the Indiana Broadcasters Association. He has hosted numerous radio shows and podcasts, served as a television correspondent and served as editor at NUVO Newsweekly before becoming content director at CEDIA. Wenck has been a freelance writer for a wide variety of periodicals and newspapers across the United States and is the author of four books.
Robb Stott, Director of Corporate Communications, National Marketing Group
Rob Stott is the Director of Corporate Communications for Nationwide Marketing Group, the largest buying and business support organization for independent appliance, cleaning, furniture and bedding retailers in North America. . Rob's passion is discovering and telling the stories of independent retailers and the brands that support them, in any medium. Prior to joining Nationwide, Rob spent several years covering the consumer technology and custom integration industries within the commercial media setting, traveling from salon to salon, learning about the latest technology and being captivated by brands and the people behind it all.
IMCCA will collaborate on key topics of the innovation cluster and on the model head office
As a partner association of CEDIA Expo 2021, IMCCA (Interactive Multimedia & Collaborative Communications Alliance) will assist CEDIA Expo in the development, organization and moderation of content session discussions on Unified Communications (UC) and work at home (WFH) topics such as:
Best Practices for Designing, Installing, and Using Audio, Video, and Lighting Solutions for Home Office Applications
A "Home Office Model" showcase demonstrating installation best practices for achieving ideal business home offices for attendees to review
[ad_2]