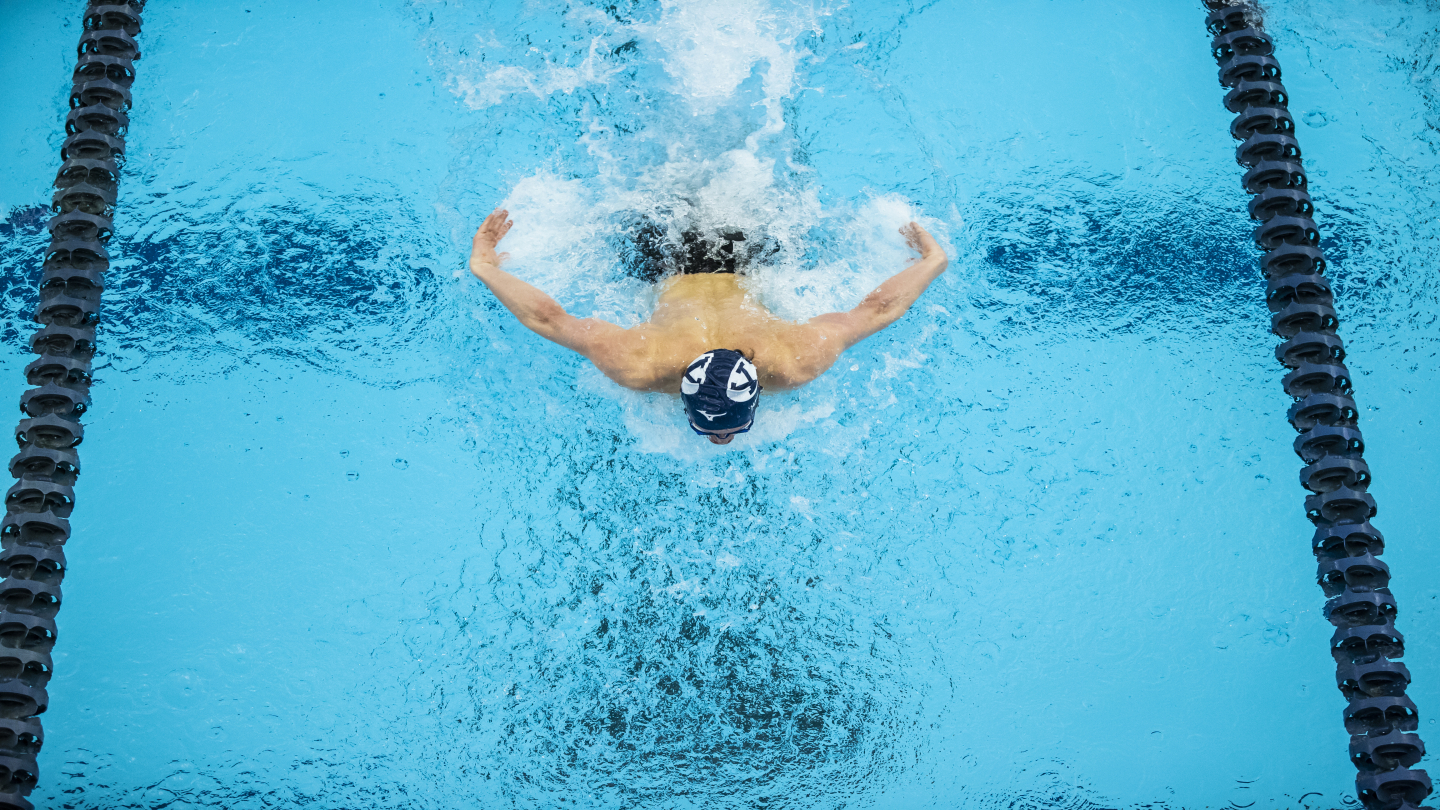 BYU sweeps Tri-Meet, beating Colorado Mesa and Denver
BYU, Colorado Mesa, Denver Tri-Meet
Courtesy: BYU Athletics
PROVO, Utah — BYU's swimming and diving teams hosted Colorado Mesa University and the University of Denver on Friday, with the swimming team totaling 21 first-place finishes and the diving team winning each of its four events.
The women's team defeated Colorado Mesa with 220 team points to 79, and beat Denver 173 to 127. The women started with a victory in the 400-yard medley relay, with a team of Brynn Sproul, Katie McBratney, Ashley Catchpole and halli williams swimming a time of 3:49.03. Sproul then won the 200 yard freestyle with a time of 1:52.44, as well as the 200 yard backstroke with a time of 2:01.42. McBratney took first place in the 100-yard breaststroke with a time of 1:04.25 and the 200-yard IM with a time of 2:06.34.
Regan Geldmacher won the 500 and 1000 yard freestyle events with times of 5:04.02 and 10:14.15, respectively. Emma Colvin won the 100-yard butterfly with a 57.60. A Sproul team, Rachel Oyler, Anna Despain-Jensen and Halli Williams took first place in the 400-yard freestyle relay with a time of 3:29.82.
The men's team beat Colorado Mesa 199-100 and Denver 204-94. The men also had a victory in the 400-yard medley relay, with Diego Camacho, Joshua Dominguez, Brad Prolo and Connor Stirling recording a time of 3:19.99. Camacho then took first place in the 200-yard backstroke clocking 1:49.66.
Brigham Harrison won the 50 and 100 yard freestyle events, recording times of 20.34 and 45.16 respectively. Abe Barragan won the men's 1000 yard freestyle with a time of 9:34.01 and took first place in the 500 yard freestyle with a time of 4:37.96. Tony Puertas finished first in the 200-yard butterfly with a 1:52.21, then won the 100-yard butterfly with a 50.29.
Tama Tuitama won the 200 yard freestyle with a time of 1:42.46, and Javier Nicolas Matta won the 100-yard breaststroke with a 55.44. Tanner Nelson took first place in the 200-yard breaststroke, clocking 2:03.13.
A team of Roger Woods, Harrison, Matta and Stirling finished the game with a victory in the 400-yard freestyle relay with a time of 3:01.34.
BYU Divers Kennedy Cribbs and Mickey Strauss won both diving events in Friday's meet. Cribbs won the women's 3m dive with a score of 323.80 and won the 1m dive with a 319.70. Strauss won the men's 3m dive with a score of 371.00 and won the 1m dive with a 381.90.
BYU's next meet will be next weekend, January 28-29, at the Richards Building Pool. The Cougars will host Utah for their final home game of the season. Friday's diving competition will start at 5 p.m. MST and Saturday's will start at 11 a.m. MST.
Courtesy of Colorado Mesa Athletics
PROVO, Utah— A 1-2-3 100-yard backstroke sweep helped propel Colorado's Mesa University men's swimming and diving team to a program-record win over Division I University of Denver. the NCAA at a Friday afternoon triangular here at BYU's Richards Building Pool.
The Mavericks picked up their second doubles win against a Division I opponent this season and increased their doubles win total to a program record nine with Friday's 158-141 win over the Pioneers. The host Cougars won the other two innings of the 3-team, 16-event affair, earning a 199-100 victory over the Mavs and a 204-94 win over Denver.
During this time, Lily Borgenheimer won the 200-yard breaststroke while earning three top-3 finishes to lead the WUC Women, who were brought down by both Division I opponents. Team scores saw the Mavs fall 205 1 /2-94 1/2 at Denver and 220-79 at BYU.
In men's competition, the Mavs (9-4), ranked fourth in Division II, earned six second-place finishes, including in the dominant 100-yard backstroke as Ben Samson paced the peloton in 50.44 seconds. First-year teammates Andrew Scoggin (51.67) and John Walgast (51.89), who then placed second in the 100 butterfly with a season best time of 50.31 seconds, was just behind NCAA Division II leader Sampson.
Elsewhere, the Mavericks took second place in the 400-yard medley relay with Sampson, Matthew Barrette, Dejan Urbanek and lane austin clocked 3:23.63 to finish second and ahead of the Denver Pioneers. Sampson had a 100-yard split on the backstroke in 49.79.
The Mavs also took second and third place in the 200 freestyle as Kuba Kiszczak hit in 1:42.66, just ahead Jeremy Koch, who clocked a personal best of 1:42.97.
Urbanek was also third in the 200 butterfly at 1:55.02 while Austin was third in the 50 freestyle, sprinting with a time of 21.04 seconds.
Sampson then finished second in the 200 backstroke (1:49.93) and third in the 200 IM in 1:54.59.
Treven Wertz also grabbed a third-place finish in the 100m butterfly, finishing just behind Walgast in 51.58 seconds.
Wertz also combined with Kiszczak, Scoggin and Austin for a final time of 3:07.09 in the 400 freestyle relay.
On the diving boards, Belliston Tanner finished fourth on 3 meters with a score of 271.70 from 6 dives while Noah Luna finished fourth in the 1 meter with a score of 263.90.
In the women's half of the competition, Borgenheimer won the 200 breaststroke in 2:17.42 after finishing third in the 100 breaststroke (1:04.77). She also finished third in the 200 individual medley in 2:09.11.
The Maverick women (11-8-1) also finished second in both backstroke events as Katerina Matoskova finished the 100 in 57.90 seconds before Laurent Blanc finished the 200m in 2:05.89.
Somewhere else, Amelie Kinnard finished third in the 1,000 freestyle with a time of 10:41.33 while Kelsea Wright took third place in the 200 freestyle, touching in 1:55.54.
White, Wright, Ruby Bottai and Julie day also finished third in the 400-meter freestyle relay, touching in 3:33.35.
The Mavericks will wrap up the double-game of their season on Saturday when they play another triple-game against the Pioneers and Pac-12 foe Utah in Salt Lake City on Saturday.
Courtesy of Denver Athletics
PROVO & SALT LAKE CITY – The University of Denver swimming and diving team completed two tri-meetings last weekend in Utah. The Pioneers competed at BYU on Friday before heading to Utah for another meeting on Saturday.
Denver event wins BYU Tri-Meet
Daniela Alfaro – 200 Butterfly – 2:05.86
Gaby Antonin – 100 Return – 57.89
Erika Remington – 50 Free – 23.61
Aïsia Leckie – 100 Free – 52.16
Marco Nosak – 200 IM – 1:53.03
Team head-to-head results at BYU Tri-Meet
Women
BYU 173, Denver 129
Denver 205.50, Colorado Mesa 94.50
Men
Colorado Mesa 158, Denver 141
BYU 204, Denver 94
In Provo, the Pioneers took on Colorado Mesa and the host Cougars. DU took the head-to-head victory over the Mavericks on the women's side with a 205.5-94.5 win on Friday.
The women's team took four first places in Alfaro, Antonini, Reminington and Leckie.
On the men's side, Nosack was the only trailblazer to claim a win, winning the 200 individual medley.