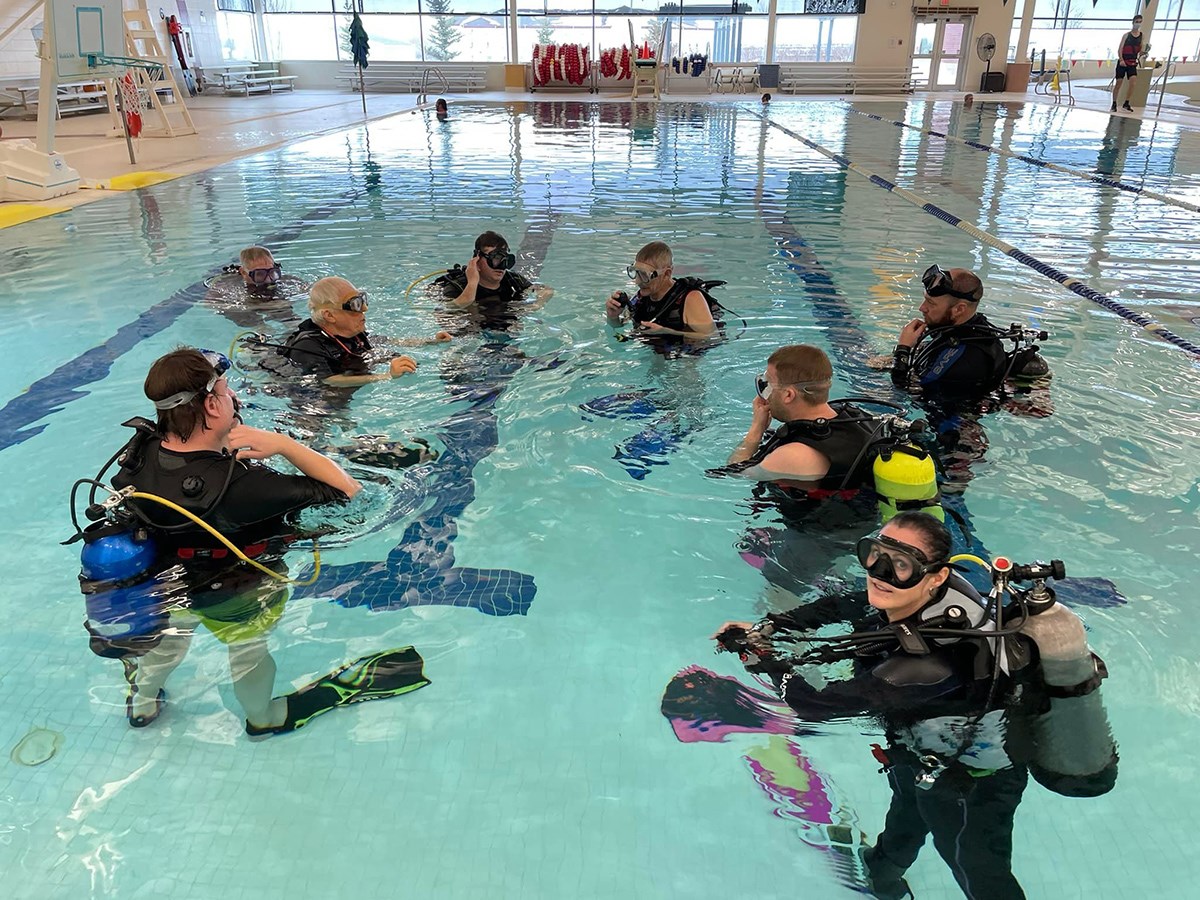 Battlefords Club Hosts Celebrity Discover Scuba Event
The Discover Scuba program is a non-certifying course that introduces the non-diver to the world of scuba diving in a safe and supervised way.
NORTH BATTLEFORD – The Battlefords diving community scored something special on January 23 at the Battleford Co-op Aquatic Center – a unique Discover Scuba session. (See video below)
The Battlefords Diving Community has, over the past few years, hosted Discover Scuba sessions with 1,500 high school students in West Central and Northern Saskatchewan with financial assistance from Tribal Chiefs of the Battleford Agency, the town of North Battleford and the town of Battleford. The club executive thought it was time for some of the people who funded the program and some of those who received press releases and photos to sample the program. It was a way of saying thank you for the support and for making more people aware of the scuba diving and training opportunities in the area.
The Discover Scuba program is a non-certifying course that introduces the non-diver to the world of scuba diving in a safe and supervised way. The four-hour program is divided into a classroom session where topics for discussion include the basic science of diving, the diving environment, safety practices and equipment used while diving.
Once in the pool, participants don the equipment and try to breathe – not always as easily as it looks – before performing some fundamental techniques frequently used by divers in shallow water – using a buoyancy compensation, emptying a water regulator, cleaning water from a mask, sharing air with a buddy if the buddy is running out of air, and equalizing ears.
When everyone is comfortable, then it's time to play and experience the near weightlessness that is such a thrill.
With the effects of the COVID pandemic being felt everywhere, several guests had to cancel their plans to attend. At the end, three representatives participated: Shane Fluney from the Gold Eagle Casino, Ross MacAngus from the City of North Battleford and MPP Jeremy Cockrill.
The club hoped the event would raise awareness in the community about diving and the scuba training available in the community and throughout the province. The effort is supported by the Saskatchewan Underwater Council and its member clubs in Regina and Moose Jaw as well as individual members across the province.
For the past couple of years there has been mainstream media coverage of the pumpkin carving scuba diving and lake cleanup at Lovering Lake, and it was felt that it might be fun to expand the coverage below the surface. Hopefully those who were able to participate will have something exciting to share with their friends and family.
For more diving information, please visit the community website at www.battlefordsscubacommunity.ca or his Facebook page.
In the video below, the first individual seen is Shane Fluney, CFO of Gold Eagle Casino. The diver in the gray wetsuit with pink flippers is Tracy Wilson, one of the dive club's divemasters, and she's carrying an underwater frisbee. The third individual is Jeremy Cockrill, MP for Battlefords. | Video courtesy of Battlefords Scuba Community