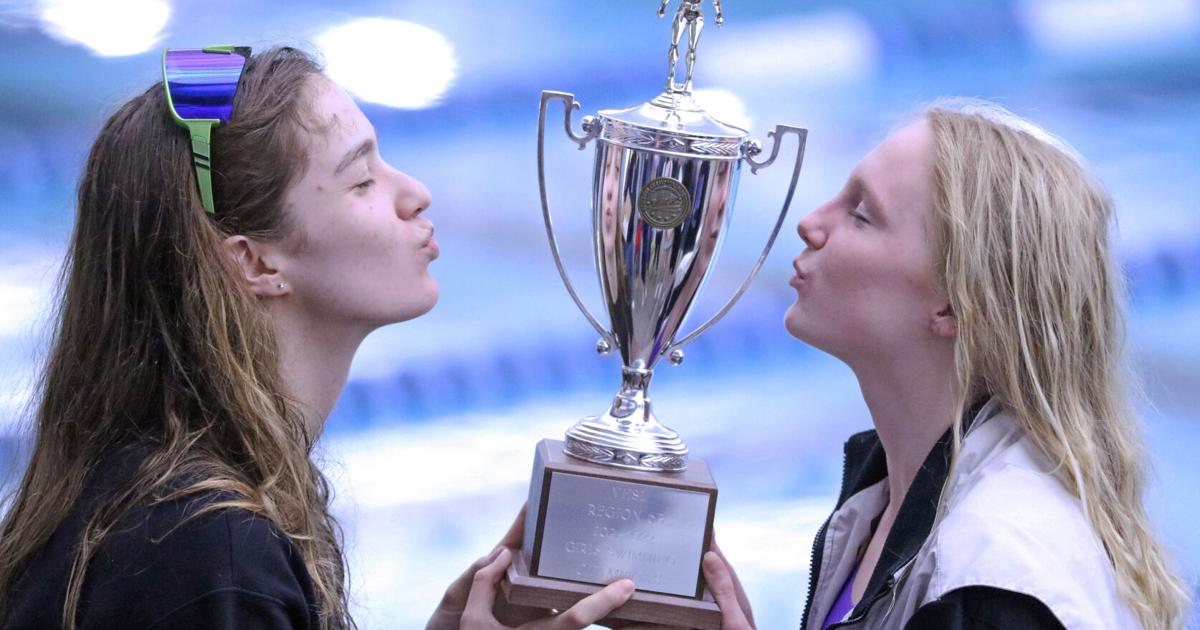 Battlefield Girls and Patriot Boys Win Second Consecutive Class 6 Swimming Title in Region B | Prince William
Camille Spink had something to celebrate on Saturday at the Region B Class 6 swim meet.
His Battlefield High School women's team won their second consecutive title. And the junior won a quarter from her club coach Jeremy Linn by posting a time of less than 1:59.00 in the 200-yard IM to win that event in 1:58.87 and set a Prince William County record in same time.
But her biggest thrill came watching her teammate Madison Richardson qualify for the States in the 50 and 100 yard freestyle events with a fifth and fourth place finish.
Spink, ranked 5th in the nation for the Class of 2023 by SwimSwam, is the defending state champion in both events. Since Tennessee's entry had already reached state qualifying times for both, there was no need for her to attend regionals there. Instead, others had the chance to step in and eventually qualify for the States.
Richardson secured spots in both events at the Jeff Rouse Center in Stafford County. And nothing pleased Spink more.
"She's like a little sister to me," Spink said.
Battlefield put together another collective effort to hold off Patriot by 38 points, 429-391. On the boys' side, Patriot also won his second consecutive regional title with 461.5 points. Colgan was second at 314.50.
Next up is the State Meet on Friday, Feb. 18 at the Jeff Rouse Center.
The Battlefield girls, who finished second in the United States in 2021, have the depth and experience to earn the school its first state swimming championship.
"This is the year for us," Spink said. "We have everyone we need. I think we have a very good chance. »
The Bobcats showed their versatility on Saturday.
James Madison University signee Jamie Cornwell and William and Mary signee Sophia Heilen won the 50 freestyle and 100 breaststroke and were first-place members in the 200-yard medley and freestyle relays.
Besides the 200 IM, Spink won first place in the 100 yard backstroke, swam first in the 200 IM relay and anchored first place in the 400 yard freestyle relay.
In the boys' race, Patriot's Joshua Hochard won two individual events (50 and 100 freestyle) and was a member of two first-place relays, the 200-yard medley and the 200-yard freestyle.
Landon Gentry and Peter Gilbert also won two individual events for Patriot. Gentry won the 100 butterfly and the 200 IM. Gilbert tied Anderson Church of Freedom-South Riding for first place in the 200 freestyle and won the 500 freestyle.
"For the most part, they all swam well," Patriots coach Lisa Bussian said. "There were really no surprises."
BOYS
First place finishers
200-yard medley relay: Patriot (Joshua Hochard, Vincent Nguyen, Landon Gentry, Alex Martins), 1:33.89
200 yard freestyle: Peter Gilbert (Patriot) 1:43.59; Anderson Church (Freedom-South Riding), 1:43.59
200 yards IM: Landon Gentry (Patriot) 1:53.11
50 yards freestyle: Joshua Hochard (Patriot) 21.18
100 yards butterfly: Landon Gentry (Patriot) 48.59
100 yard freestyle: Joshua Hochard (Patriot) 46.51
500 yard freestyle: Peter Gilbert (Patriot) 4:38.91
200-yard freestyle relay: Patriot (Alex Martins, Vincent Nguyen, Chris Shankle, Joshua Hochard) 1:27.73
100 yard backstroke: Ryan Strotheide (Battlefield) 52:11
100 yard breaststroke: Dawson Truong (Forest Park) 57.38
400-yard freestyle relay: Colgan (Matthew Jensen, Sean Lingafelt, Sam Drew, Andrew Bolz) 3:13.36
Team scores: 1. Patriot (461.5), 2. Colgan (314.5), 3. Battlefield (305.5), 4. Woodbridge (208), 5. Colonial Forge (198), 6. Forest Park (177), 7. John Champe (87 ), 8. Gainesville (59.5), 9. Hylton (49.5), 10. Freedom-South Riding (35.5), 11. Potomac (21), 12. Gar-Field (20), 13. Osbourn (19), 14 Osbourn Park (11)
GIRLS
First place finishers
200-yard medley relay: Battlefield (Camille Spink, Emma Hannam, Sophia Heilen, Jamie Cornwell) 1:44.16
200 yard freestyle: Alyssa Martel (Patriote) 1:52.99
200 yards IM: Camille Spink (Battlefield) 1:58.87
50 yard freestyle: Jamie Cornwell (Battlefield) 23.77
100 butterfly yards: Sienna Golembiewski (Patriote) 56.87
100 yards freestyle: Emily Haugen (Patriote) 52.00
500 yards freestyle: Alyssa Martel (Patriote) 4:56.71
200-yard freestyle relay: Battlefield (Sarah Golsen, Sophia Heilen, Lexi Sawwa, Jamie Cornwell) 1:39.38
100 yards backstroke: Camille Spink (Battlefield) 53.53
100 yards breaststroke: Sophia Heilen (Battlefield) 1:04.10
400-yard freestyle relay: Battlefield (Sarah Golsen, Tess Peny, Lexi Sawwa, Camille Spink) 3:31/.70
Team scores: 1. Battlefield (429), 2. Patriot (391), 3. Forest Park (275), 4. Colgan (257), 5. Colonial Forge (151), 6. Osbourn Park (145), 7. Woodbridge (109 ,5), 8. Osbourn (52), 9. Freedom-South Riding (30), 10. Unity Reed (25), 11. Potomac (18), 12. John Champe (13), 13. Hylton (11.5)