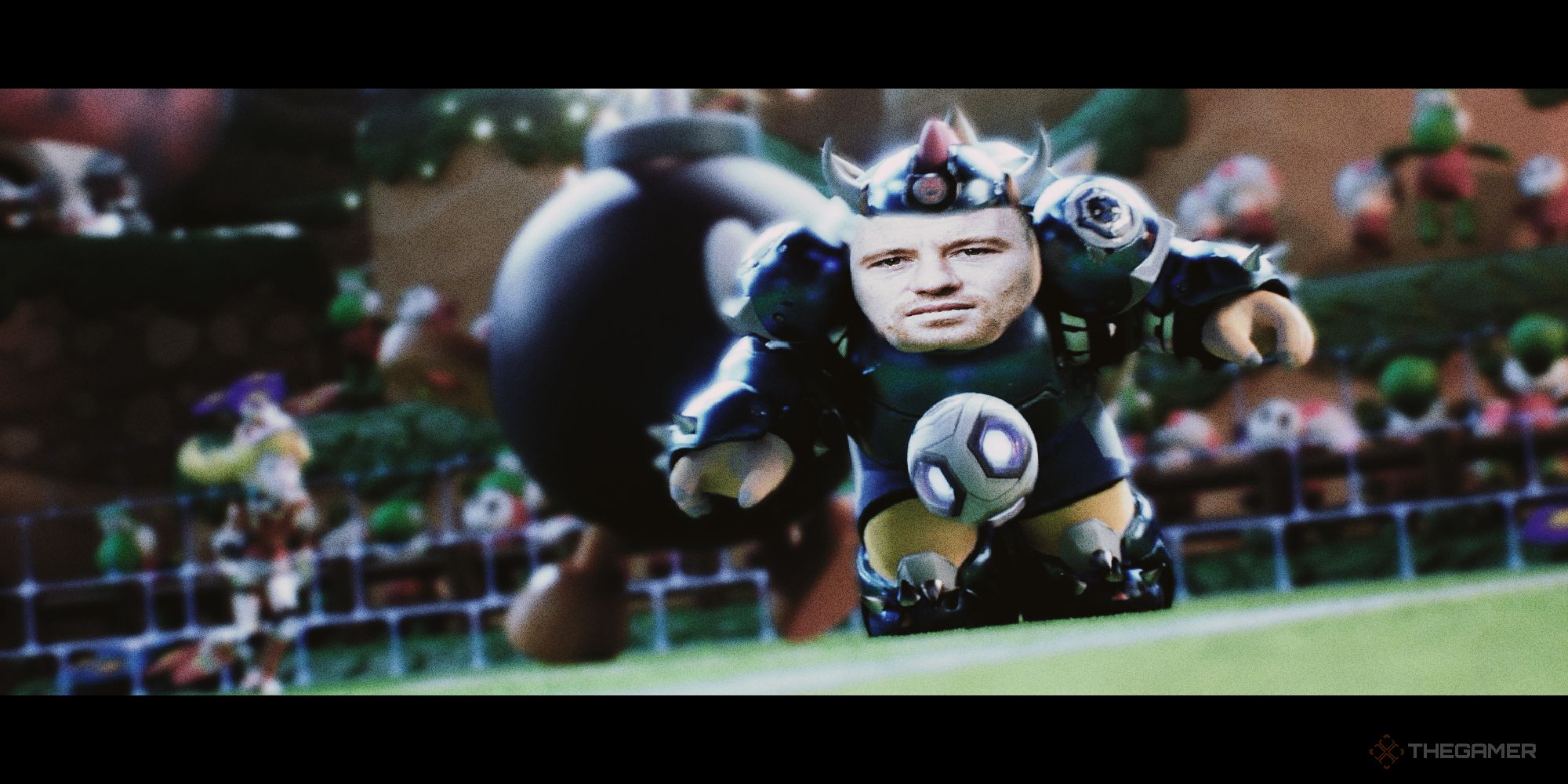 Battle League must be gritty and mean
Mario Strikers: Battle League was by far the best reveal of the recent Nintendo Direct for me. Many of the games seemed baked in a sense of nostalgia, designed to appeal to our inner child. 'No way, Gleep Glup is back!' And so on. Mario Strikers, the second nostalgic sports title unveiled at Direct (after Switch Sports), that was it for me. Football is the best sport in the world, and Strikers is easily Mario's best sports title. Golf, tennis, and sluggers are all good, but none of them have the charm of Strikers, and in some ways it's surprising that it took so long to come to the Switch.
Golf and tennis lend themselves more to the movement elements of the Switch, I guess, but by that yardstick, so do Sluggers – plus the Switch isn't as movement-centric as the Wii anyway. That's part of the reason Switch Sports feels so uninspiring to me. Especially football mode, which seems like a weird Rocket League non-car game that vaguely looks like football but isn't actually football. Mario Strikers isn't real football either – Allan Saint-Maximin can do a lot of things but I haven't seen him pick the ball up and spit on it yet – but he understands the rush that makes football great and applies the typical arcade conventions to it. Football isn't just a backdrop for Strikers, it's a game that's steeped in football. Every crisp tackle, every bicycle kick, every jockey for space, it screams football. Real football.
Related: In Defense of 1-2 Switch, Nintendo's most maligned game
There are a lot of great football games out there. FIFA has always been top of the league, and Pro Evo used to fight back before falling on hard times and completely embarrassing themselves with eFootball. This Is Football was good once upon a time. Championship/Football Manager fulfill your management simulation ambitions. Arcade wise, not so much. This Is Football incorporated a certain arcade mentality, with the Deliberate Foul/Dive button, but was still a real football game. FIFA Street embraced skill-based arcade football, but remained fairly realistic and with four games on its roster, it got very haphazard feedback on its ideas. Sega Soccer Slam is Mario Strikers' only major competitor, and it had one game that wasn't as good as Mario anyway. Captain Tsubasa also has the arcade elements, but it's also far too slow and too concerned with emulating real football to fully embrace its best ideas.
Of course, just because previous games were good doesn't necessarily mean the new one will be. Mario games tend to be pretty consistent, but there's always a chance. What it needs to do is carry on the spirit of the first games into the Switch era. Of all sports games, Strikers has always been the most serious. Football is a contact sport, and a saving tackle will be greeted with applause as enthusiastic as a goal. If it's a tackle that leaves the other team's pony on deck, the applause will be even louder. Previous Strikers games had this figured out. The message was never 'hurt your opponents' (it's still Mario), but there was the implicit understanding that you were, in football parlance, supposed to 'leave them one'.
The Battle League trailer showed that to some extent. When Bowser was outmatching ASM with his fire-breathing towers, Luigi arrived and dropped him on the bridge. Players burst into electric fences, in a move I can only imagine would have Sergio Ramos rubbing his hands in glee. Golf, tennis and sluggers are games where you win, but Strikers is a game where you cause the other team to lose. I have always supported two football teams: Newcastle and Whoever Sunderland Are Playing. Of course, these days Sunderland are so far down the leagues. The one playing Sunderland tends to be The Red Lion and Bolsover Police Station, but the point still stands. Sunderland were beaten 6-0 the day we signed Brazil international Bruno Guimaraes, and I still don't know what made me happiest. I mean, probably Bruno, but still. Difficult decision.
New Strikers need to keep this mentality, especially with online play. It will never be a rough and nasty affair like traveling to Burnley, but it can't all be Arsenal's tricky, harmless football 2-0 down at home. It's the best Mario sports game because it's the only one where you can make your opponents suffer, and it has to stay in the latest title.
Next: What Pokemon Brilliant Diamond & Shining Pearl DLC Could Look Like
Harry Potter: Magic Awakened gives female characters a face to use magic
NetEase called it a bug, but others called it a feature.
Read more
About the Author