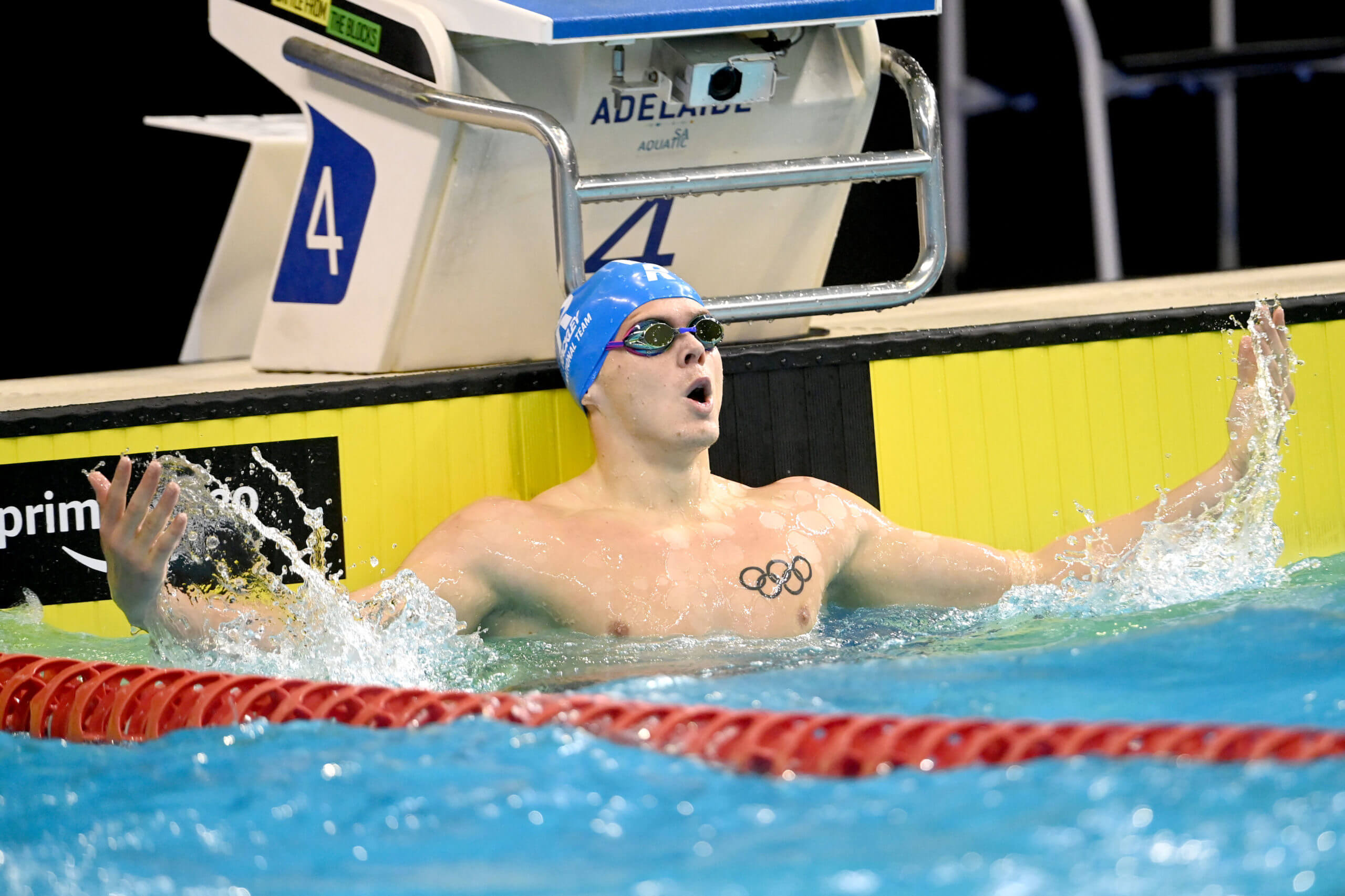 Australian Isaac Cooper chasing short course world championships
Sydney Sprints: Isaac Cooper back on deck in search of World Short Course Team spot
Bundaberg Olympian in Tokyo isaac cooperSensationally sent home by Swimming Australia on the eve of last month's Commonwealth Games in Birmingham, will resume his way to the national team in Sydney tomorrow.
Cooper will compete in the four-day Sydney Sprints (Australian Short Course Championships) meet – which kicks off at the Sydney Olympic Park Aquatics Centre.
And if the teenage prodigy can get back to his best, he could well make a sensational return to the squad of 32 Australian dolphins who will be named on Saturday night for the World Short Course Championships in Melbourne from December 13-17.
Swimming Australia today confirmed that Cooper 'is committed to all the support that has been put in place and is available for selection' after saying at the time that he would not be subject to any further disciplinary action by Swimming Australia.
The 18-year-old was kicked out of the Australian team's French training camp before Birmingham for abusing prescription drugs – which cost him a real chance of winning a medal in the reign of gold Australia in Birmingham, where the Dolphins have won 65 medals, including 25 gold.
In a statement at the time, Swimming Australia said Cooper had admitted his mistakes and accepted the consequences.
"Swimming Australia will continue to support Isaac as he overcomes (his) challenges," Swimming Australia said in a statement.
"The well-being of our athletes remains our top priority. Swimming Australia is vigilant in informing athletes of their obligations under the National Integrity Framework and will continue to provide all necessary support to ensure they uphold the highest standards and behaviors when representing Australia. .
With Cooper later admitting "It was hard to accept within myself that I needed to deal with my mental health……and I'm grateful to Swimming Australia for helping to identify a problem and for offering their support and resources to help me."
Cooper entered the 50m and 100m backstroke and 50m and 100m freestyle events after setting a new Queensland All-Comers record of 23.41 in the 50m backstroke at the recent Queensland State Championships , where he lowered the time of three-time Olympian Mitch Larkin in 2016.
The Tokyo relay bronze medalist and Australian champion will start his campaign tomorrow morning in the heats of the 100m backstroke, where he is ranked third in a world-class field led by the Russian Mark Nikolayev and American world champion justin ress who helped the Americans to their Duel In the Pool victory in Sydney on Saturday night.
Cooper, who has had limited competition in the short course, swims for Bundaberg, where he grew up and first emerged as a brilliant Queensland age group under the guidance of coaches. Scott's Hamlet and Paul Sims.
He trained on the Sunshine Coast after his former club, the Rackley Swim Team, had no choice but to part ways with their budding teenager.
But his personal best form at the Queensland Championships showed he was on track to continue improving.
Cooper also finished second in the 100m backstroke in 51.97 ahead of former Australian Youth Olympics and New South Wales-based Junior Pan Pac representative Lewis Blackburn (51.61), now firmly entrenched in training under the direction of the coach and former Olympian. Ash Delaney at St Andrews Anglican College, Peregian Springs on the Sunshine Coast.
While the qualifying time of 51.30 is not out of reach, it remains elusive with the Olympic event-based selection criteria, with head coach Rohan Taylor's journey to Paris already in full swing.
Cooper also finished second in 21.77 to USC Spartan Ashton Brinkworth (21.67) in the 50m freestyle – who has a World Championship qualifying time of 21.40 and also second in 23.59 in the non-selection 50m butterfly event at the double Olympian David Morgan.
And for Cooper, the Sydney Sprints may just be the boost the youngster needs to get him back on the road to his second Olympic campaign.
The Championships will take place from Wednesday August 24th to Saturday August 27th and will feature members of Australia's triumphant Birmingham team led by Olympic champions. Emma McKeon, Kaylee McKeown, Kyle Chalmers, Meg Harris, Madi Wilson and Chelsea Hodges and Golden Girl of the World and Commonwealth Games Mollie O'Callaghan.
Several members of the American Duel In the Pool team, including Ress, Luke Hobson, Beata Nelson, Grant House and Trenton Julian, David Johnson and Jamal Hill will also attend the meeting.
MEET INFORMATION – START LISTS
TV BROADCAST: This event is broadcast in 230 countries around the world via First video. To watch the stream, simply go to primevideo.com (fees apply for signing up to the streaming platform, they offer a 30-day free trial). Please note that this event is exclusive to Swimming Australia's broadcast partner Prime Video and will not be available on SwimTV. It's an exciting era for Swimming Australia, showcasing the sport with one of the biggest streaming services in the world.
SWIMMING AUSTRALIA SELECTION EVENTS and QTs
2022 FINA WORLD SWIMMING CHAMPIONSHIPS (25m), Melbourne, VIC (December 13-17).
MEN
50m freestyle: 9:40 p.m.
100m freestyle: 47.23
200m freestyle: 1:44.08
400m freestyle: 3:42.50
800m freestyle: 7:45.02
1500m freestyle: 14:49.29
100m backstroke: 51.30
200m backstroke: 1:52.66
100m breaststroke: 57.63
200m breaststroke: 2:06.23
100m butterfly: 50.57
200m Butterfly: 1:53.61
200 MI: 1:55.25
400 MI: 4:09.19
WOMEN
50m freestyle: 24:44
100m freestyle: 53.78
200m freestyle: 1:55.60
400m freestyle: 4:06.95
800m freestyle: 8:29.17
1500m freestyle: 16:15.27
100m backstroke: 58.08
200m backstroke: 2:07.19
100m breaststroke: 1:06.18
200m breaststroke: 2:23.38
100m butterfly: 57.40
200m Butterfly: 2:08.85
200 MI: 2:10.16
400 MI: 4:37.54