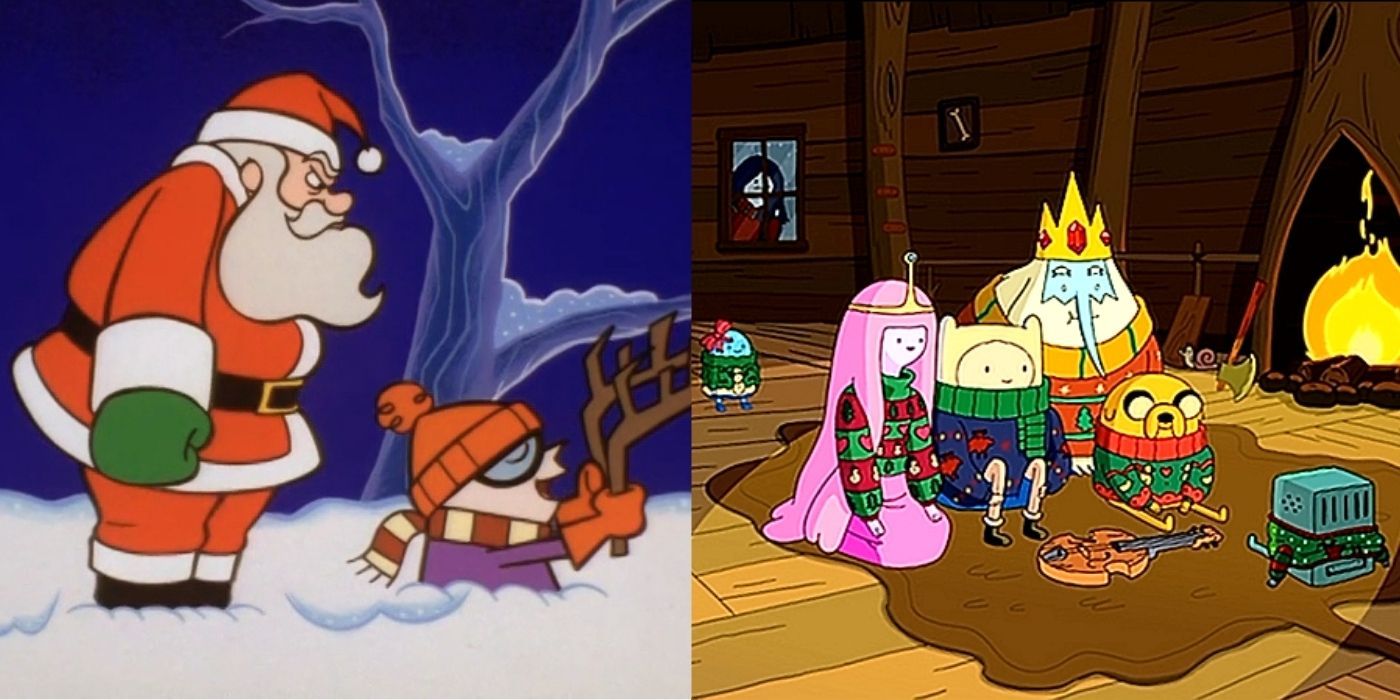 10 Best Cartoon Network Vacation Episodes, According To IMDb
ten

Ed, Edd n Eddy: "Ed, Edd n Eddy's Jingle Jingle Jangle" (Season 4) – 7.6
"Ed, Edd n Eddy's Jingle Jingle Jangle" was a special episode that aired between the 4th and 5th seasons of the series. The episode opens on Christmas Eve as Eddy searches for his Christmas presents only to find out he's dressing. After meeting his friends, Eddy decides the only way to turn his Christmas around is to get adopted by another family who will give him the gifts he really wants.
Not only does this episode have a moral lesson, it also shows how different people celebrate Christmas. As Eddy wanders from house to house, he learns different traditions like Rolf who believes that a troll named Yeshmiyek delivers Christmas dinners to good families.
9

Dexter's Lab: "Dexter from the Claws of Santa Claus" (Season 2, Episode 37) – 7.7
Dexter and Dee Dee rarely see each other in the eye, and their differences are only accentuated during Christmas time. After Dee Dee blows it off that she still believes in Santa Claus, Dexter makes it his mission to prove his older sister wrong. Dexter goes all out and even knocks down Santa's sleigh and shaves his beard to prove his point, only to learn that Dee Dee was actually right all along.
"Dexter Against the Claws of Santa Claus" isn't an inherently original episode, it all comes down to Dexter's disbelief in Santa, but the episode is quite original in its execution. It's also hilarious to see Dexter chasing after the real Santa Claus and tormenting him to prove his point.
8

We Bare Bears: "Christmas Holidays" (Season 2, Episode 22) – 7.8
We have bare bears could be one of the best original Cartoon Networks shows of the 2010s that led to one of the best holiday episodes yet. Bears are busy decorating their home when they are invited to 4 holiday parties on the same night. Not wanting to hurt anyone, the bears attend the four festivals for a short time.
Anyone can relate to being pulled in hundreds of directions on vacation, even children, which makes this episode so relevant. The episode also ends with the precious lesson that is sometimes worth choosing.
7

6Teen: "Deck The Mall" (Season 1, Episode 5) – 8.0
6Teen aired a handful of Christmas-themed episodes while it aired, but the most memorable was its Season 1 episode. With the characters stuck in their various mall jobs, they find themselves unable to enjoy the holiday season as they deal with stressed-out shoppers. However, the episode really kicks off when the friends are locked in the mall on Christmas Eve.
RELATED: The 10 Worst Christmas TV Series Episodes, According To IMDb
While the episode is aimed more at teenagers, it is still a fun episode for kids of all ages. He also reminds everyone to treat retail workers with kindness during peak shopping season.
6

Courage the Cowardly Dog: "The Nutcracker" (Season 4, Episode 1) – 8.0
Courage the cowardly dog may be one of Cartoon Network's scariest kids' shows of all time, but that didn't stop them from creating a Christmas-themed episode. The episode begins when Courage and his family are locked in the city dump. There, Coward finds a nutcracker toy that will later help him free Eustace from the giant rats.
"The Nutcracker" is a fun parody of Tchaikovsky's iconic ballet. While the benchmark may be over children's heads, it is still a fun and exciting episode full of music and dance battles.
5

The Garfield Show: "Home for the Holidays" (Season 2, Episode 1) – 8.3
"Home for the Holidays" is a special two-part episode of The Garfield Show this not only kicked off the holiday season, but also the show's second season. In Part 1, Garfield is his selfish, food-obsessed self until Arlene convinces him that the vacation is about giving back by helping an animal shelter. Part 2 takes a more fun approach as it focuses on Garfield and Oddie decorating a Christmas tree.
This two part episode is awesome because it offers something for everyone. Cartoon Network fans who love moral posts with their holiday episodes will love Part 1, while fans who just love fun holiday specials will love Part 2.
4

The Sinister Adventures of Billy & Mandy: "Billy & Mandy Save Christmas" (Season 5, Episode 7) – 8.4
The Sinister Adventures of Billy and Mandy is another show that doesn't necessarily look like Christmas and yet they made it work with their two-part episode "Billy and Mandy Save Christmas". After Mandy tries to convince Billy that Santa Claus isn't real, Grim takes them to the North Pole to meet him themselves. The only problem is that Santa has been bitten by a vampire and needs help to become himself again.
"Billy and Mandy Save Christmas" is a fun holiday special because even though it screams Christmas, it stays true to the dark humor and wacky situations of the show. The episode also has a great plot twist that will shock viewers of all ages.
3

Adventure Time: "Holly Jolly Secrets" (Season 3, Episode 19) – 8.6
Adventure time aired tons of holiday episodes over its 9 seasons, but the most popular among fans was the Season 3 episode "Holly Jolly Secrets". The first part of the episode centers on Finn and Jake as they attempt to uncover a secret hidden in the Ice King's video diary. Part 2 continues the story as the Ice King desperately tries to stop them as they get closer and closer to the secret.
RELATED: 10 Cutest Adventure Time Characters (Who Are Surprisingly Dangerous)
Like all the grown-ups Adventure time episodes, Finn and Jake lead the way on an epic quest full of twists and turns and in this holiday spirit. The episode ends with a heartfelt cliffhanger, as the gang learn the truth about the Ice King's past, which brings them all together.
2

Code name: Kids Next Door: "Operation: NAUGHTY" (Season 5, Episode 5) – 8.7
"Operation: NAUGHTY" begins when an apparent Sector V leads an attack on Santa's Workshop where they rig the REINDEER system so that they are the only ones present. In retaliation, the elves show up and cut down the Sector V treehouse only to find that Sector V is not the one that organized the attack, but rather the Delightful Children From Down the Lane in disguise as them.
Full of action, combat footage, and clever thinking, "Operation: NAUGHTY" is a great holiday episode for the audience looking for something a little different from the traditional special tree-type decoration.
1

Regular show: "The Christmas Special" (Season 4, Episode 9) – 9.6
With 8 seasons, it's no surprise that Regular show aired several holiday-themed episodes, however, it is the Season 4 episode that retains the highest praise and ratings among fans of the animated series. The basic plot of the episode revolves around Mordecai and Rigby who must destroy a gift that one of Santa's sinister elves left behind that has the potential to end Christmas forever.
The episode is not only entertaining and well-done, but it also served as the series' first-ever Christmas special, a tradition that has continued in the years since. There are also several references to the Lord of the Rings hidden in the dialogue and actions of the characters.
NEXT: 10 Funniest Holiday Episodes From Popular TV Shows

Next
You: 8 funniest memes about Joe

About the Author